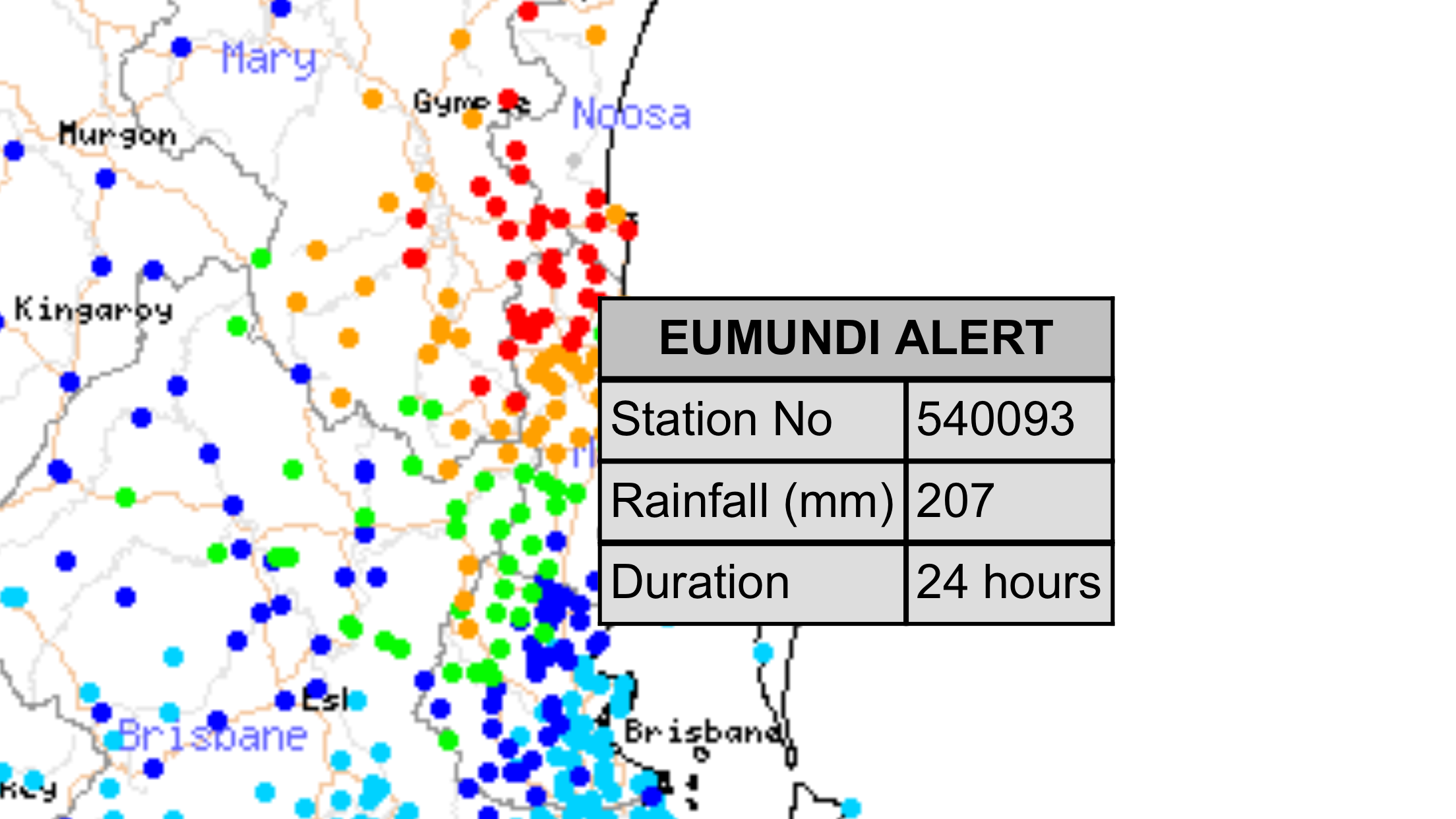 18 Oct

South-East QLD Rainfall Wrap Up
Issued 2pm Wednesday, October 18th 2017.

Over the past 4 to 5 days, South-East QLD has seen some of its best rainfall since not only Cyclone Debbie back in March, but for some… daily totals have been the best this year along with monthly records being broken on the Sunshine Coast! Above image: Eumundi cracking 200mm on the Sunshine Coast in 24hrs via BOM
[wp_ad_camp_1]
SUMMARY: In the lead up to the weekend, forecasts were indicating totals of 50-150mm across South-East QLD and that meant that most places were expecting to see falls of at least triple digits. The rainfall began slowly on Saturday with most places seeing light rain as the trough lingered over North-Eastern NSW. It wasn't until late on Saturday that rainfall totals started to climb with 6 locations receiving more than 100mm overnight into Sunday. Rain areas then lingered through Sunday and intensified across Monday with the Sunshine Coast as the surface trough deepened. We (Higgins Storm Chasing) showed the "potential for up to" 500mm if a stationary cell wanted to develop, as the atmospheric conditions were ideal for such a total to occur. This occurrence tried exceptionally hard over the Tewantin / Gympie / Sunshine Coast region during Sunday night and across Monday and this lead to more than 30 locations seeing at least 100mm in the 24hrs to 9am Tuesday, with Eumundi scoring more than 200mm! While rain areas eased across areas South of the Sunshine Coast on Tuesday and into Wednesday morning… good rain areas continued over the Sunshine Coast with scattered falls of 50mm+ occurring and isolated falls of 100mm+.
[wp_ad_camp_3]
So how accurate was the forecast, and how did you do? Keeping in mind these are official totals, with many unofficial local gauges actually recording more than the official gauges.
Now for the mathy, technical, jibber jabber which is important because it proves accuracy.
There were 588 gauges across South-East QLD and the Wide Bay that recorded something over the last 4 days, of those 588 gauges…
• 505 (>85%) recorded 50mm+ (the bare minimum on forecasts leading up to the event)

• 305 (51.8%) recorded 100mm+
• 158 (26.8%) recorded 150mm+
• 85 recorded 200mm+, and incredibly…
• 24 recorded 300mm+!
At least 54 locations saw more than 100mm in a 24hr period, 6 of those locations recorded at least 2 days of 100mm+, and incredibly… there were 2 locations (Eumundi and Upper Springbrook) that scored more than 200mm in a day (plus Ball Lookout which had 199mm).
Aside from Upper Springbrook, the bulk of the rainfall came over the Sunshine Coast and Wide Bay regions. The top 10 totals were:
• Eumundi 428mm (not far off the 500mm potential)
• Upper Springbrook 411mm
• Ball Lookout 369mm
• Delaneys Creek 367mm
• Cooroy 364mm
• Cooloolabin Dam 362mm
• Mapleton 355mm
• Mount Tinbeerwah 354mm
• Lake Macdonald Dam 350mm
• Mt Mee 345mm
[wp_ad_camp_1]
While we can understand many people being disappointed with the rainfall as major metropolitan areas such as Greater Brisbane, Greater Ipswich and the Gold Coast (outside of the Hinterland) struggled to reach expectations, a lot of these places still technically received more than 50-100mm, with places like Archerfield's 78mm to 9am Monday was the heaviest 24hr rainfall in October in 35 years. Brisbane CBD had its wettest 48hrs since Cyclone Debbie, and Ipswich its wettest 24hrs since Debbie. So let us know, how did you go with the rain?