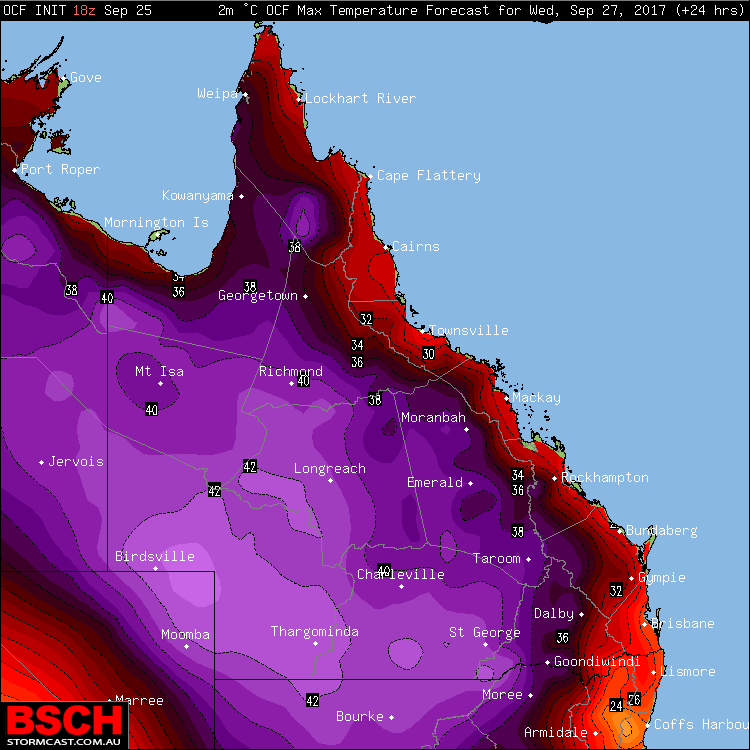 26 Sep

State & National Record at Risk as Inland QLD gets ready to bake!
Issued 3pm Tuesday, September 26th 2017.

The majority of Inland QLD is set to scorch to their hottest temperatures of the heatwave so far on Wednesday, with many places likely to at least challenge a record… those records include both the State and National September Records! Above image: Temperatures for Wednesday via OCF / BSCH
[wp_ad_camp_1]

During Wednesday, a low pressure region is expected to become situated over Western NSW, producing a trough over North-West NSW, Far South-West QLD and into the Southern NT. This activity is likely to combine with a large high pressure region off the East Coast of Australia to direct North-Westerly winds across the majority of Inland QLD. This is likely to channel the hottest temperatures (some which are likely to be record breaking) of the heatwave so far into Inland QLD… particularly South-Western QLD.
[wp_ad_camp_3]
The State Record for September currently sits at 42.4ºc, recorded by Birdsville in 2003. The National Record also recorded in 2003 sits at 43.1ºc (West Roebuck, WA). The State record in particular… but both records look could be broken with Ballera and Birdsville both tipped to hit 43ºc on Wednesday.
Other records at risk include: Note: Many current records were recorded either last Saturday or today (Tuesday), a * indicates that the temperature was recorded today and was the maximum temperature at the time of the blog.
• Barcaldine 40ºc (record: 40.1ºc)
• Blackall 40ºc (record: 38.4ºc)
• Bollon 42ºc (record: 39.0ºc)
• Charleville 41ºc (record: 38.9ºc)
• Cunnamulla 42ºc (record: 38.7ºc)
• Injune 39ºc (record: 39.3ºc)
• Isisford 41ºc (record 40.7ºc)
• Longreach 41ºc (record: 40.8ºc)
• Miles 38ºc (record: 37.4ºc)
• Mitchell 40ºc (record: 39.3ºc)
• Roma 40ºc (record: 39.5ºc)
• St George 41ºc (record: 38.6ºc)
• Surat 40ºc (record 39.3ºc)
• Tambo 39ºc (record: 39.0ºc)
• Thargomindah 42ºc (record: 40.4ºc)
• Windorah 42ºc (record: *41.1ºc)

• Winton 42ºc (record: *40.4ºc)
The fierce temperatures are not the only thing thats becoming a risk for Wednesday. Strong winds producing gusts of 40-60km/h are expected over large parts of Inland QLD, with even stronger gusts of 60-75km/h near the trough in South-Western. These stronger winds have lead to Queensland Fire Emergency Services issuing a "SEVERE" fire threat for the Channel Country and Warrego & Maranoa districts for Wednesday and "VERY HIGH" elsewhere.
[wp_ad_camp_1]