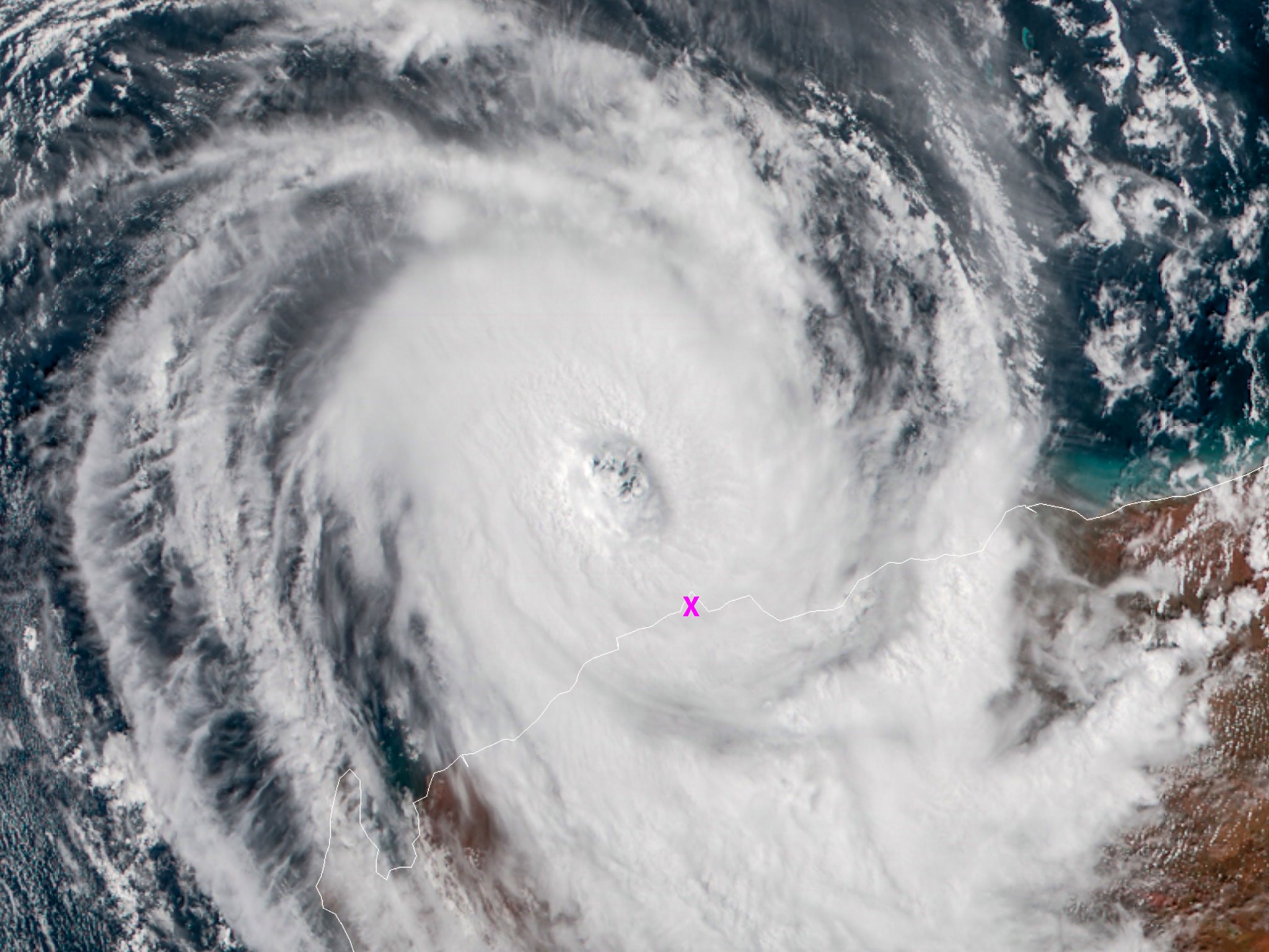 02 May

Summary of the 2019-2020 Australian Cyclone Season
The 2019-2020 tropical cyclone season for Australia has officially come to an end. The season played out generally as expected when predictions were made back in September and October of 2019, with a slow start to the year, followed by a burst of frequent systems. The finish to the season was quieter than expected, but this wasn't a surprise in the moment given how the tropics played out.

Above image via RAMMB / CIRA of Severe TC Damien.
[wp_ad_camp_1]
Back in September / early October 2019, we forecast a total of 10 tropical cyclones for Australia, 5 of those becoming severe (Category 3+) with 4 systems in WA, 2 in the NT and 4 in QLD.

The reality was close to that with 8 firm systems occurring (9 loose, as UESI was technically NOT classed as a cyclone despite producing Category 2 strength winds over Lord Howe Island) – 3 of those were severe with 5 systems in WA, 1 in the NT and 3 in QLD (with UESI being a loose 4th). We had 5 landfalls with the reality being 3. An additional 15 tropical lows were forecast that wouldn't become tropical cyclones, in reality there ended up being 16. We consider this to be a fairly accurate prediction.
[wp_ad_camp_2]

Lets break down the season.
It was a slow start to the 2019-2020 tropical cyclone season as a strongly positive Indian Ocean Dipole and a warmer than normal ENSO (warm side of neutral) delayed the start of the monsoon across the Tropics as the monsoon trough remained over Indonesia and even North of the equator for an extensive period of time. Models were hesitant on a tropical cyclone occurring prior to Christmas (we normally only have 1 maybe 2 anyway prior to Christmas) and this was the case. Models were also very keen on conditions rapidly changing after New Year. On January 4, Cyclone Blake was named in the Indian Ocean and on January 4, a low pressure system over the Timor Sea would eventually become Severe TC Claudia. Blake remained a Category 1 and made landfall over the Western Kimberley while Claudia hightailed it into the Indian Ocean, narrowly missing the Kimberley and intensifying into a Category 3. Claudia ended up being responsible for producing over 500mm in 24hrs for some locations SW of Darwin and broke the NT daily rainfall all-time record. There was then a lull in activity before a new monsoon wave occurred at the start of February and this helped spawn Severe Tropical Cyclone Damien and Cyclone Uesi. Damien intensified quickly and made landfall at Dampier / Karratha as a strong Category 3 system which lead to some damage in the area along with flooding. Uesi on the other hand, bypassed the Pacifc Islands of Vanuatu and New Caledonia as a Category 3 system before weakening to officially become a subtropical cyclone (cyclone without a warm core) in Australian waters where it still maintained Category 2 strength. Esther then formed in the Gulf of Carpentaria 2 weeks later and went on a slow moving rampage over the Gulf and Northern NT into the Northern WA region before back tracking across the NT and into SW QLD and NSW where record-breaking rainfall was recorded. After Esther, things got quiet quickly with Ferdinand becoming a Category 3 system in the Indian Ocean at the end of February, followed by TC Gretel in the Coral Sea during mid March, Cyclone Harold at the start of April was a weak system in Australian waters before racing into the Pacific Island group as a high-end Category 5 monster, and then Cyclone Jeruto moved in from Africa into Australian waters mid April – all of these systems posed no threat to Australia.
[wp_ad_camp_4]
The fall out from the season was the Northern Tropics of Queensland has seen an extremely dry Summer with most areas around 30-50% below average for rainfall. The Northern NT areas are also below average by about 15-20% despite having an extremely active period during mid January to early March (outside of this timeframe its been extremely dry) and its about 15% below average for rainfall across the Northern WA areas. Parts of the Pilbara and North West NT have seen localised phenomenal rainfall due to systems directly impacting these areas, but this is on an extremely localised scale. While Inland QLD has seen no systems track down the middle which was of high hope pre-season. The only area of QLD that really benefited was the Far South West which saw 2 days of rainfall with Esther that shattered records. The benefit of a quiet season has been minimal damage and minimal loss of life directly from these systems.