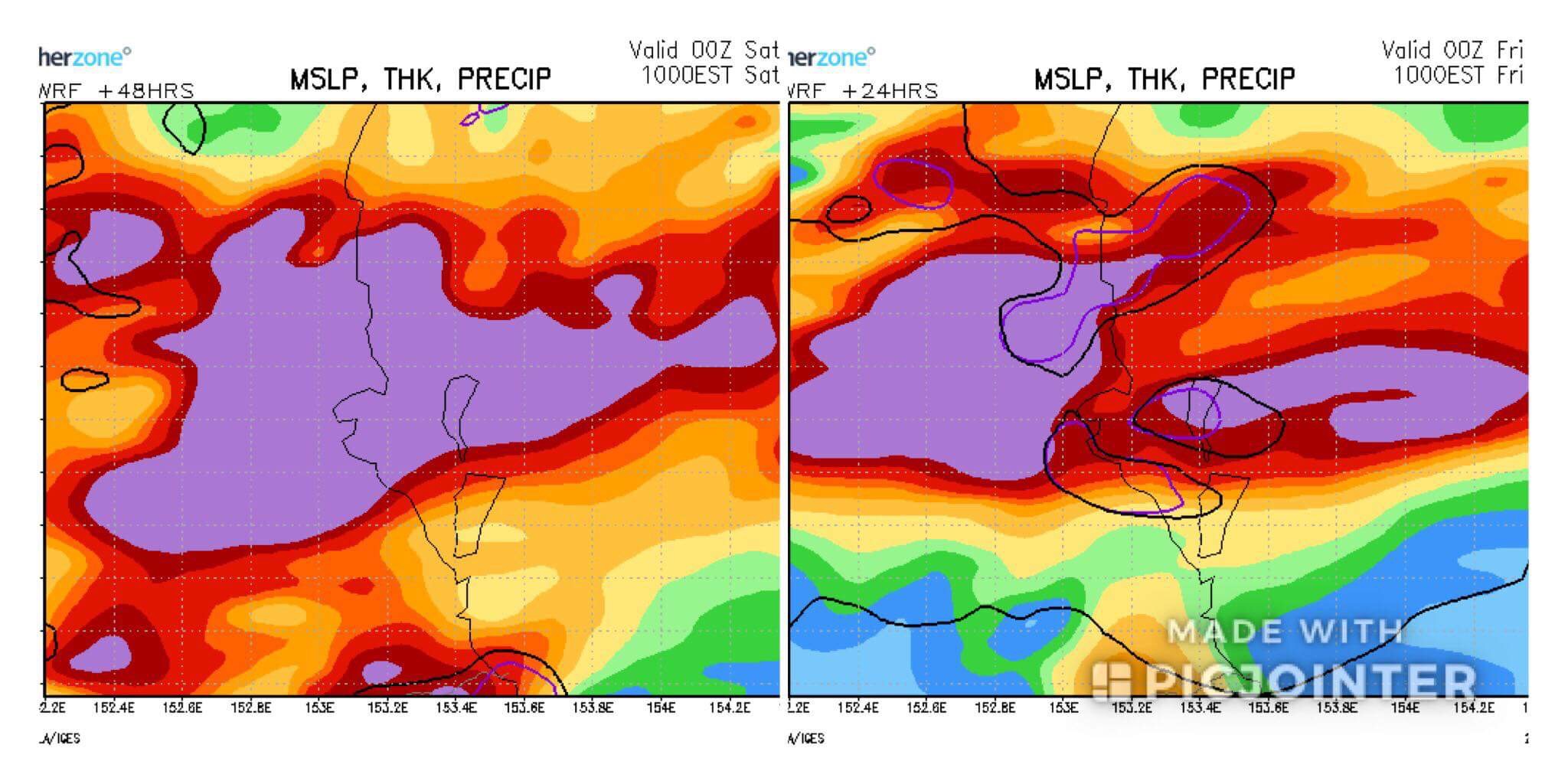 22 Feb

Sunshine Coast, Brisbane, Gold Coast Could Get A Deluge

[wp_ad_camp_2]
Posted 22nd Feb 2018.

The South East QLD Coast is forecast to cop a deluge over the next 3 days with up to 200mm possible. Above image: Rainfall forecast data for Friday and Saturday via WRF / Weatherzone, purple = 100mm.
Various global computer models are continually forecasting heavy rain and storms across the 3 major cities in South East QLD over night Thursday and through Friday, Saturday and Sunday. The main target areas for 100 to 200mm are from the Sunshine Coast, through Brisbane and into the Gold Coast.
A surface trough is currently across the Sunshine Coast on Thursday night generating widespread rain which is forecast to shift further South on Friday. As a result rain areas with moderate to heavy falls should also shift further South. HSC HQ has already recorded 150mm at Maleny with heavy rain continuing on Thursday night.
During Saturday and Sunday the trough remains across the region which is expected to produce scattered showers and storms with some storms likely severe with heavy rainfall leading the flash flooding.
The whole area is very likely to get rain and storms during the outlook period however the exact location for excessive rainfall totals of around 200mm is hard to pin point due to slight model variation. Flash flooding will become a risk under heavy rain areas.
We will continue to provide forecasts, updates and warnings as the system unfolds. Below image: rainfall forecast data via GFS / BSCH. Higgins Premium forecasts and maps available here!

[wp_ad_camp_4]