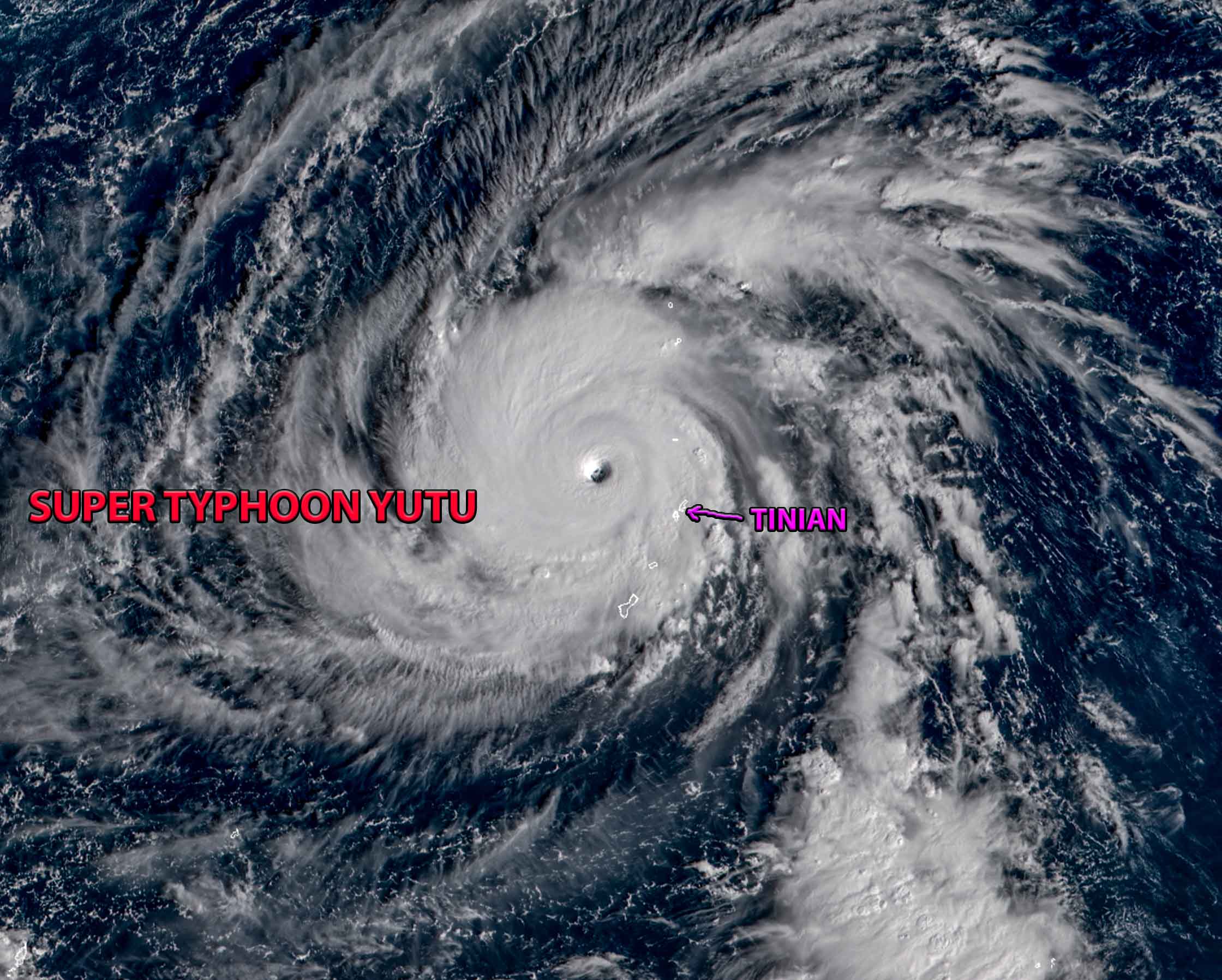 25 Oct

Super Typhoon Yutu batters Tinian!
Super Typhoon Yutu has become the 11th Category 5 system of 2018 and overnight severely impacted the Northern Mariana Islands including a DIRECT hit on Tinian, where the eye was bigger than the island! Above image via RAMMB / CIRA.
[wp_ad_camp_1]
Super Typhoon Yutu has rapidly intensified over the past 12-18 hours as it barrels West across the Western Pacific. Overnight, this rapid intensification coincided with a direct hit on the small island of Tinian in the Northern Mariana Island group (North of Guam). The system brought with it 260-280km/h sustained winds with gusts in excess of 350km/h possible along with torrential rainfall. The damaging wind gust swath likely has extended across the entire Northern Mariana Island group with heavy rain being associated with it, leading to likely widespread damage and a small path of catastrophic, life threatening damage near the pinhole eye. While our thoughts and prayers are with those who have just been impacted, we are also looking into the future at what this menace has planned for next.
[wp_ad_camp_3]
Regardless of which model you look at, Yutu won't be weakening any time soon, as it enters a marginally to moderately favourable environment where will at least maintain its insane strength, or even fractionally intensify a little further. Models are in agreement that the system will maintain its Westerly path before interacting with a ridge which is building to the West over South East Asia. This ridge will be the be all and end all of this system, and something we are watching closely. If the ridge builds as expected or earlier than expected, then Yutu will go North into open waters and die a quick death under very unfavourable conditions (cooler waters and increased vertical wind shear), if the ridge builds slower than expected (keeping in mind its 5-7 days out, so there is subject for change), then places like Taiwan may be in the firing line, or possibly Japan given the ridge will cause it to veer North. Its not a time to panic, but something to keep an eye on.
[wp_ad_camp_4]