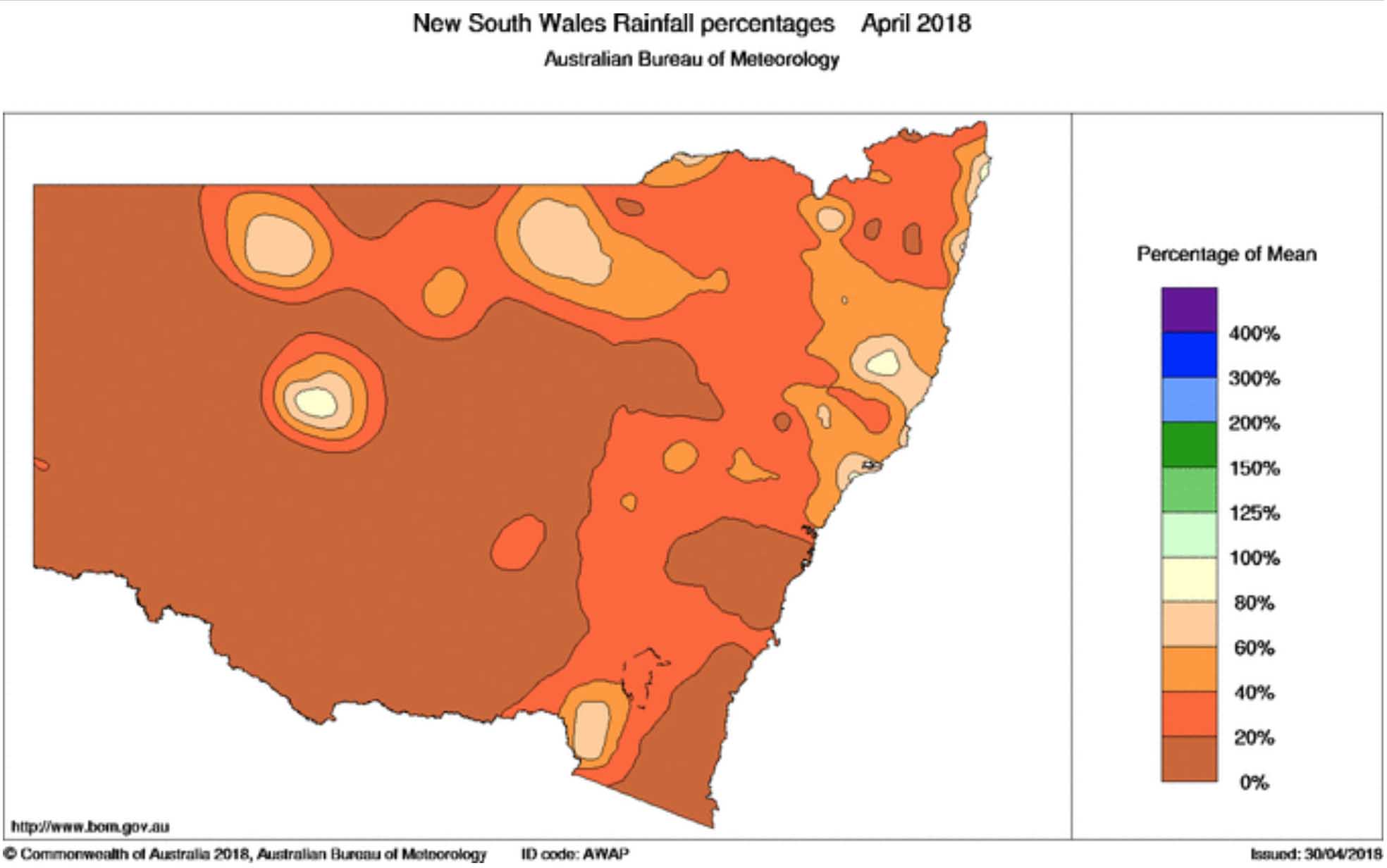 01 May

Sydney endures hottest April on record
April 2018 has been anything but a typical April for Greater Sydney as it has endured its hottest April on record and driest in 12 years! Thankfully times are changing and it looks like May could return back to a somewhat normal perspective. Above image via BOM – Rainfall anomaly for April for NSW showing well below average for Sydney.
[wp_ad_camp_1]
Greater Sydney, particularly those along the Coastline that typically see cooler weather for the localised region, has just experienced its hottest April on record. Sydney's records date back to 1859 and April 2018 has defied the typical April consensus to shatter heat records. Sydney City for April has recorded an average maximum temperature of 26.1ºc – this is not only 3.6ºc above the long term average of 22.5ºc, but also higher than the January average of 26.0ºc. So essentially, it was as hot as Summer. The high temperatures weren't missed either, with the 34.2ºc daily record set in 2016 for April surpassed twice with 35.4ºc on the 9th and then 34.6ºc on the 12th. Both of these scorchers were part of a long run of 17 straight days above average to start the month. The average maximum temperature from April 1 to 16 was 28.4ºc (a staggering 5.93ºc above average).
Not only were the maximums ridiculously warmer than normal… the minimums were just as abnormal with a record breaking 18.0ºc average for Sydney City. It took until Sunday morning (April 29th) for the first below average morning to occur. The Western Suburbs weren't as drastic, but Penrith recorded its hottest April in 21 years and Richmond 23 years.
[wp_ad_camp_3]
The above average heat was also combined with well below average rainfall. Penrith recorded less than 1mm for the month, Blacktown less than 6mm, Richmond less than 10mm and Sydney was a measly 23.4mm. This is only 18% of the normal April average of 128mm, the first time since 2010 that less than 100mm has occurred in April and the lowest monthly total since 2006.
[wp_ad_camp_1]
Thankfully it looks like the atmosphere is already responding to a change, with the only 5 rain days for Sydney occurring over the last 5 days (April 1 to 25 recorded 0.0mm) and an obvious change in temperatures with back to back below average nights and 2 of the last 4 days below average also.