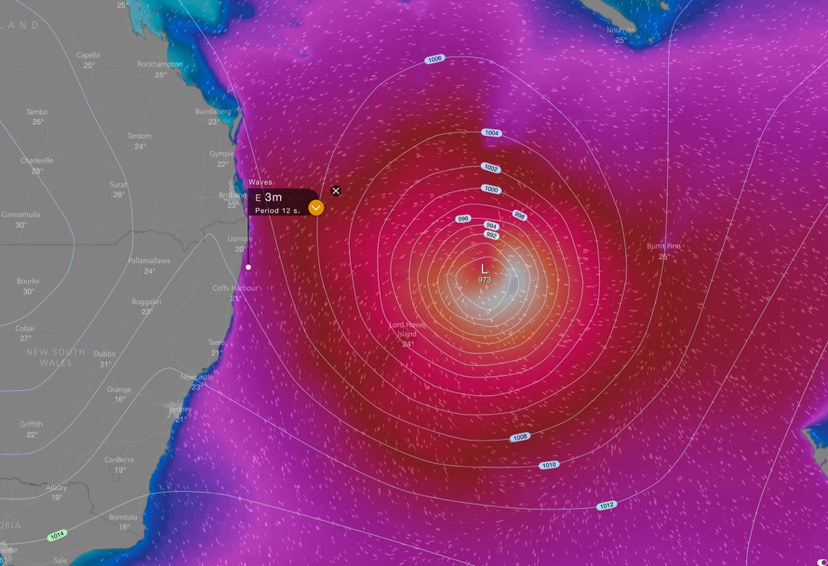 15 Feb

TC Gita To Produce Large Swell For QLD And NSW

[wp_ad_camp_2]
Posted 15th Feb 2018.

Severe Tropical Cyclone Gita category 4 is located in the South West Pacific Ocean to the South West of Fiji. TC Gita is moving West and is forecast to generate Large and Hazardous swell along the South East QLD and NSW coasts over the weekend into early next week. Above image: Swell height and TC Gita via Windy.
During the past week, there has been a number of public alarming, inacurate long range forecasts published in the media and on facebook about TC Gita. Lets get one thing very clear… TC Gita is NOT forecast by any global data to hit QLD or NSW!
Surfers rejoice beach goers be aware! TC Gita will produce an expected 2 to 3.5 meter large and hazardous Easterly swell along the Southern QLD coast and most of the NSW coast in coming days. Gita has and is expected to continue to have maximum wave heights up to 12 meters near its core.
TC Gita is forecast to slowly weaken from its category 4 status during the next 5 days. It is also forecast to take a long slow turning curve towards the South then later towards the South East. The system is expected to stay just to the East of Lord Howe Island but could impact New Zealand on Tuesday as an Extra Tropical Cyclone

.

[wp_ad_camp_4]
Board Riders and Boaties – The first notable swell from TC Gita is expected to arrive on Friday with waves up to 1.5 meters on a 12 second period. This swell will steadily increase during the weekend with waves between 2 and 2.5 meters on a 12 second period. Early on Monday peak wave heights of 3 to 3.5 meters are forecast on the Southern QLD and Northern NSW coasts at a 15 second period. During Monday the swell of 2 to 3 meters will spread further South along the remaining NSW coast. On Tuesday conditions will ease to around 1.5 meters.
Beach Goers – please be aware of hazardous to dangerous beach conditions during the weekend and on Monday. Rough breaking waves are expected along with very strong rips. Some beaches may close due to the conditions. Swim between the flags ONLY and stay in the shallows. Below image: TC Gita forecast intensity and track map via JTWC.

[wp_ad_camp_4]