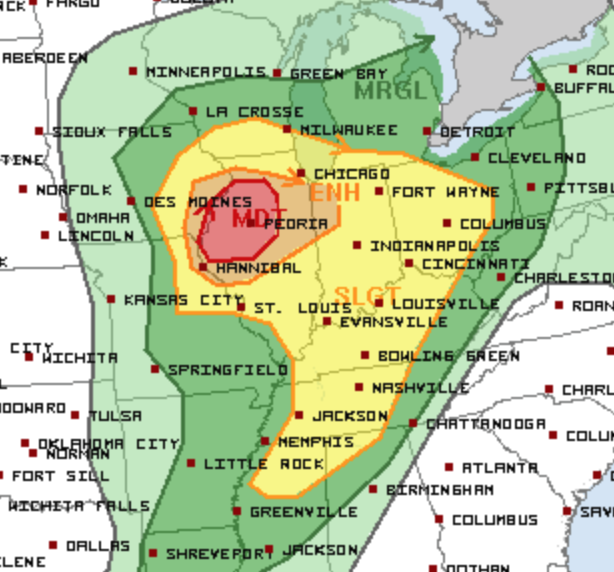 28 Mar

Tornado Outbreak possible across Illinois on Saturday
Its only early in the season (technically still pre-season), but the United States is expected to see one of the stronger storm days of the season evolve during Saturday with a tornado outbreak possible across Illinois and immediate surrounding States.
Above image showing the Storm Prediction Centre Categorial Risk (which

may

be upgraded further).
[wp_ad_camp_1]
A deep low pressure system is expected to move through the Midwest (Nebraska, Kansas and into Missouri and Iowa) during Saturday with a cold front attached to it. This cold front is expected to draw in excessive amounts of moisture into a triple point wind convergence and warm sector that will create an extremely favourable environment for severe storms and supercells to develop in a line across Eastern Iowa and Eastern Missouri before maturing and spreading throughout Illinois and into Western Kentucky and Indiana as well as the Great Lakes region.
The focus of this threat will be surrounding the potential for a tornado outbreak across Illinois, which will include Chicago City and the immediate surrounding areas – an extremely densely populated region of not just Illinois, but America as a whole. The main tornado threat will be in a narrow window stretching from mid afternoon to around sunset, with storms weakening post-sunset as daytime heating eases and the cold front shifts too far away from the low pressure system. The parameters involved in this setup are off the charts for not just tornadoes, but long tracked and strong tornadoes. Supercells will also yield a giant hail threat as well as damaging to locally destructive straight line winds. There are very high expectations that the Storm Prediction Centre based on the available data will upgrade to a 'HIGH' risk with an expansive 'MODERATE' risk area.
This setup is scarily similar to the November 17, 2013 tornado outbreak across the same region which produced 73 confirmed tornadoes across a 10 hour period. The way that day evolved is synoptically almost identical to this setup we are forecasting at the moment. The hope is that morning convection (rain, storms and cloud cover) could hinder daytime heating and lower the overall thunderstorm threat.