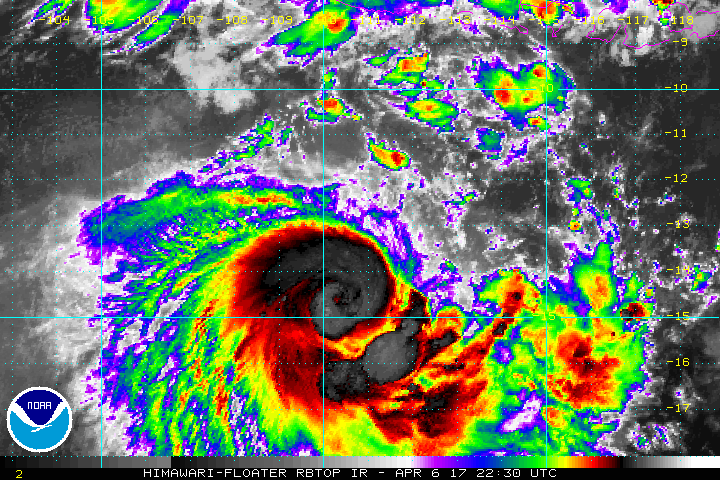 07 Apr

Tropical Cyclone Ernie develops
Tropical Cyclone Ernie was officially named early on Friday morning and has become the 6th Cyclone for the season, in what is now shaping up as a season which is making up for lost time. Above image via NOAA


Tropical Cyclone Ernie was officially upgraded from Invest 94S (Tropical Low) into a Category 1 Cyclone just before 5am AEST and then upgraded to a Category 2 system shortly before 11am AEST. This system remains in a favourable environment for further intensification as it lingers in the Indian Ocean approximately 1000km North-West of Port Hedland or around halfway between the WA Coast and the Christmas/Cocos Island region. Very warm Indian Ocean waters of 28-30ºc are present in the vicinity of the Cyclone and this combined with slightly favourable vertical wind shear could allow for the system to become a Category 3 SEVERE Tropical Cyclone late on Friday night or early on Saturday morning prior to sunrise.
[wp_ad_camp_3]
Where does Ernie go from there?? Away into the middle of nowhere. A large and strong high pressure system is forecast to produce a strong ridge over Central and even parts of Northern WA which will block any South-Easterly movement. The shape of the ridge though is likely to mean Ernie will track in a more South-West to Westerly motion and this will mean he enters a more unfavourable environment with slightly cooler sea surface temperatures and slightly higher vertical wind shear. This essentially means beyond Monday, Ernie will struggle to maintain Cyclone strength and will most likely be downgraded. Peak wind gusts of up to 190km/h are expected in the system (Severe Category 3) and apart from some rough seas for any vessels in the region.. nobody at all is expected to be impacted by this system.
[wp_ad_camp_1]
While this system isn't impacting anyone, we believe its still worth mentioning that is has developed into a Cyclone as it will be added to an ever-growing tally. After a very slow start to the Season once again, and what seemed to be another flop of a season, Ernie is the 3rd Cyclone to develop in 2 weeks and it may not be done with there as eyes are watching another possible system across the NT and Northern WA region for next week which models are consolidating on.