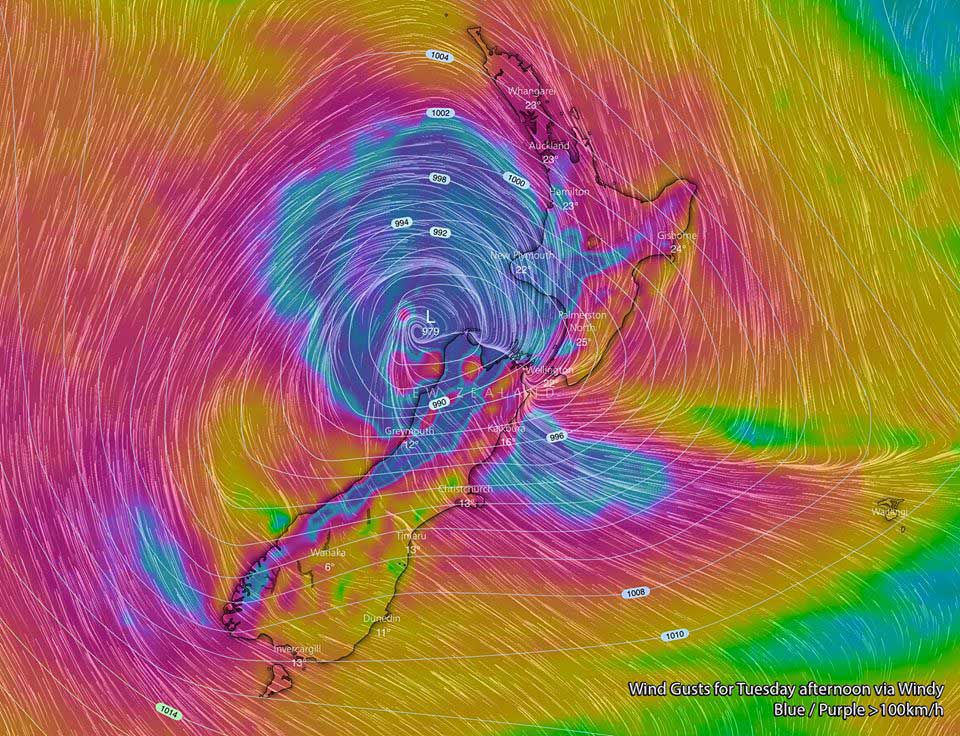 19 Feb

Tropical Cyclone Gita to cause Widespread Severe Weather across NZ
Tropical Cyclone Gita is remaining on track to cause widespread severe weather across New Zealand over the next 48-72 hours as it directly crosses over the Country. Above image – Winds on Tuesday afternoon via Windy
[wp_ad_camp_1]
Tropical Cyclone Gita is currently a Category 2 tropical cyclone East of Lord Howe Island in the Tasman Sea. Over the next 24 hours, the system is expected to maintain its strength, if not slightly intensify as it transitions into an extratropical cyclone (thats a cyclone which is transitioning into non-tropical waters) before it makes landfall over the Northern parts of the South Island later on Tuesday.
[wp_ad_camp_3]
The system, while its not expected to be as severe or even remotely prolonged as Fehi was to the South Island and Southern parts of the North Island.. it is still expected to impact the same areas with widespread falls of 100-200mm which are likely to cause flash flooding along with some creek and river rises which may lead to localised sustained flooding. Damaging winds are expected to become widespread across the Southern half of the North Island, Western North Island Coast and the majority of the South Island along with localised destructive winds of 125km/h+ over the South Island Southern Alps and Cook Strait. A large swell of 6m+ is likely to spread through Cook Strait with waves of 4-7m over the Western Coast of both Islands and the East Coast of the South Island on Wednesday.
[wp_ad_camp_1]
While this isn't an overly dangerous system or as long lived, its still likely to cause widespread severe weather which could impact the daily lives of highly populated areas. It may also cause transit issues with trees down over roads, roads closed due to flooding and hazardous driving conditions. So its important to not be complacent with this system.