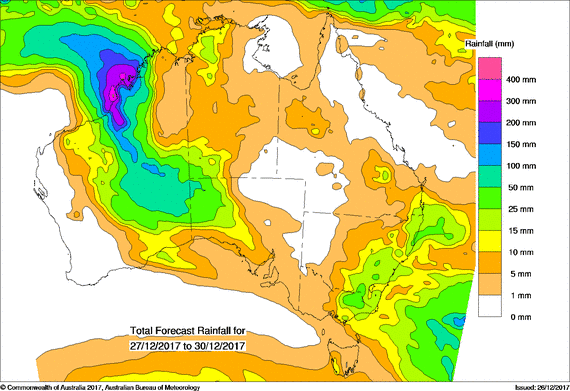 27 Dec

Tropical Low / possible Cyclone to impact Broome to Port Hedland!
The WA Pilbara and Western Kimberley on high alert for some flooding as a Tropical Low (Invest 92S) is forecast to impact the region for the next 48-72hrs! Above image: Forecast 4 day rainfall via BOM.
[wp_ad_camp_1]
Heavyweight models sparred with each other for a considerable amount of time, delaying the system which was expected to become Australia's second tropical cyclone for the 2017-18 season (after Cyclone Dahlia earlier on). The heavyweight models with their indecision created high uncertainty for the strength and positioning for the system which a few days ago was labelled as Invest 92S near East Timor.
[wp_ad_camp_3]
From there, the system began to intensify and move South (as expected), but it did so quicker than expected and this didn't allow the system to intensify into a cyclone. Now, the fate of the system seems like its unlikely to become a tropical cyclone after all. Invest 92S as of Wednesday morning, was situated OVER LAND 100km North of Broome. The wording "over land" is vital here, because land interaction weakens tropical systems, and that has been the issue with 92S. It moved too close to the Coast and is now over land, so it hasn't had the fuel to intensify further. That doesn't mean its not still a dangerous system. Tropical lows are renowned for producing extraordinary amounts of rainfall and thats what Invest 92S is forecast to do, as global models predict falls of 100-200mm becoming likely widespread across the Western Kimberley and parts of the Pilbara, while isolated falls of as much as 400mm are possible! This kind of rainfall in a short period time of 2-3 days can cause creek and river flooding along with low lying areas being inundated and flash flooding being inevitable. Squally conditions are rough seas are also likely.
[wp_ad_camp_1]
There is a brief chance that the system may become a very short lived cyclone, and thats if it can meander over open water for just long enough this afternoon and tonight before making landfall tomorrow. If it can pull far enough away from the Coastline, it may get just enough fuel to reach cyclone intensity… in saying that models aren't giving it a huge window of opportunity to do so.