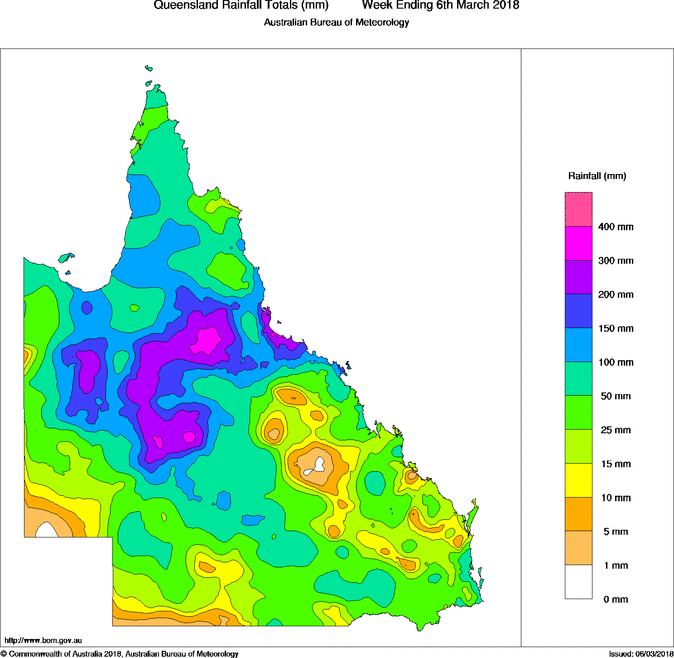 15 Mar

TRUTH HSC Forecast Accuracy Review For Western QLD
Firstly its very important to see exactly what we publicly "forecast" before comparing with what eventuated. From the reports in the ABC article some people need to learn how to READ and also understand that forecast can and do change slightly.
Here is our first public forecast release which was posted on the 28/2/18, click the link for FULL forecast details>>> Low to bring Heavy Rain to North West & Western QLD. "Models are coming on board for North West and Western QLD to see a low pressure system move through the region delivering heavy rain of 100-200mm and severe storms over the coming days!"
Here is our second public forecast release which was posted on the 1/3/18, click the link for FULL forecast details>>> Major Record Flood Forecast Western Queensland. "UPDATED 2nd March 2018. Large parts of Western Queensland need to prepare for a "potential" Major Record Flood which is "forecast" to impact the area during the next 4 days. It "could" rival anything during the past 44 years (since the 1974 flood), it "may" also be so significant that nothing has ever been experienced like it in this state. Widespread rainfall totals of 100 to 200mm are likely with up to 400mm possible!"
So before we proceed we trust you have read BOTH forecasts in full by clicking on the links highlighted in blue??? If not please do so. I will also mention that our in-house rainfall forecast maps and text had even higher accuracy than the public releases.

---
To Mr Newsham, Eulo in South West Queensland was NEVER in our heavy rainfall forecast area to recieve any more than 25mm from the event. Nearby to you in Cunnamulla recieved 35mm over 2 days. Sorry you missed out HOWEVER before you go making false accusations you may wish to read our forecasts more carefully in the furture before saying we don't know what we are talking about.
Also to Queensland Fire and Emergency Services emergency management co-ordinator Elliot Dunn, of Mount Isa "Point of truth then, we used BOMs own PME 4 day rainfall forecast data for our public forecast release".
To Longreach district disaster coordinator Mark Henderson will will never "promise" rain there will always be some people who miss out thats mother nature so don't twist our words. FYI we are well aware of the 6 year drought and the mental heath of land owners and took this into very serious consideration before releasing our forecasts publicly. Did the Central West not receive widespread soaking rain??? I can tell you it did ranging from 50 to 250mm.
---
The following rainfall totals occurred from the system.



4 to 7 day rainfall totals: * Carsland 391mm * Cannington 281.8mm * Gereta 279.7mm * Alni 277.2mm * Winton 255.8mm * Julia Creek 227mm * Lake Julius 291.4mm * Richmond 195.3mm * Cloncurry 170.2mm * Phosphate Hill 165mm * The Monument 145mm * Mt Isa 122.2mm * Longreach 107mm
High individual 24hr totals: * Carsland 298mm * Alni 177.4mm * Cannington 171.8mm * Gereta 153mm * Julia Creek 127.2mm (new March daily record) * Richmond 113mm * Lake Julius 106.2mm * Bogewong 105mm * Phosphate Hill 104.4mm * Winton 101.8mm.
As you can see widespread 100 to 200mm occurred as we forecast, with near 400mm occuring as we forecast.
Below image weekly rainfall totals ending 6th March 2018 via BOM.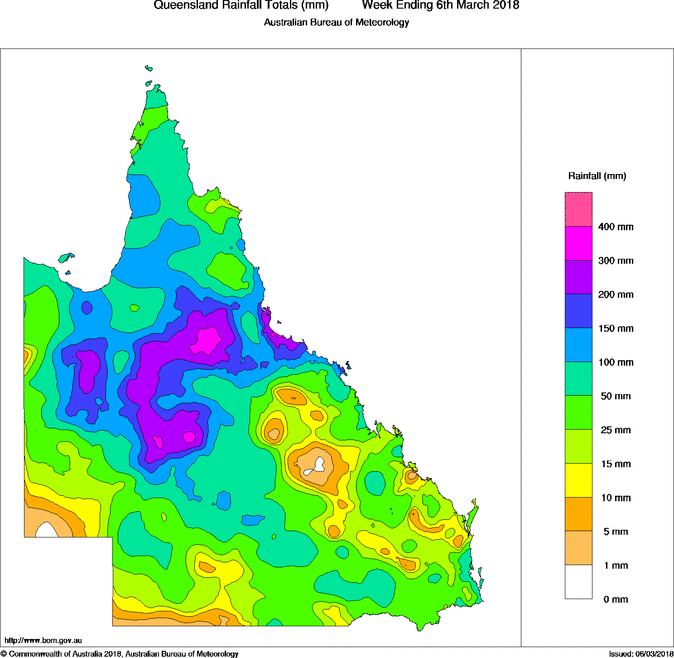 ---
These widespread heavy rainfall totals resulted in widespread MAJOR flooding comparative to 1974 with major flooding still continuing 10 days after the rainfall occurred. The following river height data was sourced from the BOM during the flood event in early march 2018.
"The Cloncurry River reached a major flood level of 7.56m this week which was higher than the 74 flood level. It fell short of setting a new record which was 8.03m in January 2009." Image via BOM.

"The Flinders River at Richmond is 1.6m over the bridge. It is just 3cm below major flood level and rising slowly. This is the highest the river has been since early 2009 and just 50cm lower than the 8.47m major flood in 1974." Image via BOM.

"Western River at Winton peaked at 3.7m major flood level and is now falling. This is the highest recording since 2000. Diamantina River at Elderslie peaked at 4.5m major flood level and is now slowly falling. This is the highest recording since 2009. The Diamantina River is 7.5m and rising fast at Tulmur which is likely to reach major flooding and the highest since 1974." Images via BOM.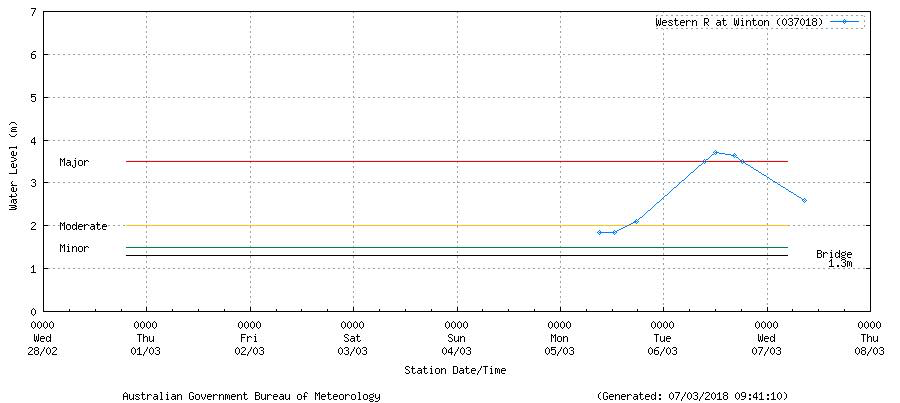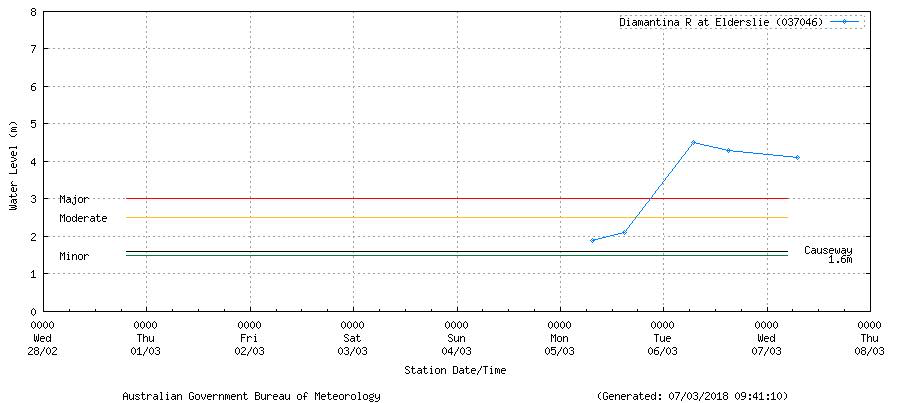 "The Diamantina River at Diamantina Lakes peaked at 6.93m major flood levels which was the highest since January 1999 and 0.8m lower than the 74 flood." Image via BOM.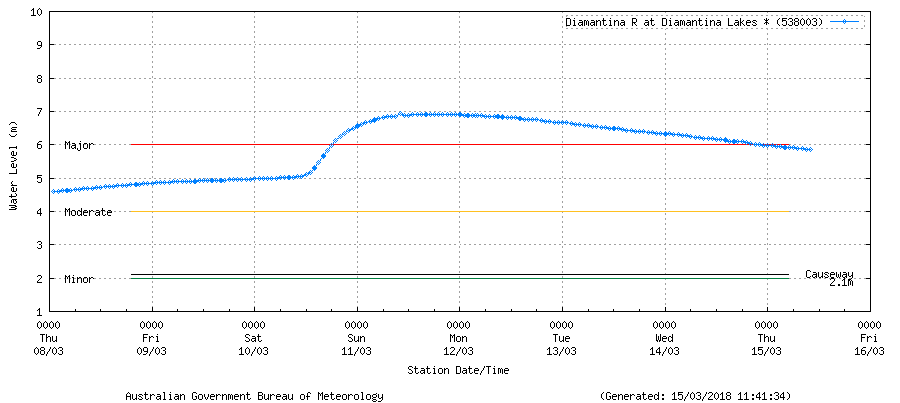 ---
Hi everyone, please look at this photo and then take 5 minutes to read the following private messages just exchanged between myself and Thomas from HSC, Sheree and John from West of Winton, QLD. This is the heart and soul of Higgins Storm Chasing connecting with people from Western QLD right here folks!
"Hi guys
Just wanted to say a very big thank you from my husband and I. We live on my husband

s families property 70km West from Winton in QLD with our two boys 2yrs and 4 weeks. It was with your post on fb that we were able to make the informed decision to stay on the property and enough time to get to town to stock up on baby formula, medical supplies, stores and to move cattle out of harm and away from creeks. Those creeks are.now completley flooded. We will probably be cut off from town for quite a few weeks so thanks again for all of your hardwork. We truly appreciate it.
Many thanks
Sheree and John."
"Hey Sheree, I just saw your message. Firstly your confidence in us is something we are incredibly appreciative of. It's very special and means a lot that you took our word and acted on it. Secondly, to see you experience so much rainfall (despite the flooding) is amazing. Send as many photos as you wish because we can't get enough of the happiness from everyone in your area. While of course we know it's not drought breaking, I hope it's at least beneficial and makes life a lot easier for you and the family. I hope your child (based off your profile pic) was able to play in the water and mud and if so, you were able to get happy snaps that'll be cherished forever. Just sit back now, enjoy what's happened and hopefully (no promises)…. but hopefully the next lot of rain isn't too far away and it can take another big chunk out of the toll that the drought has caused.

?

~Thomas"
"We've had a total of 189mm since friday. Beautiful steady rain thats filled the house dam and at the moment its to wet to check the other paddocks so thats promising. We've been getting by and really have been better off then others but its bloody good to know we wont be struggling anymore. Many photos taken, coffees enjoyed watching the rain fall and smiles on faces." Sheree and John
"Firstly I'm from the bush, I have personally experienced drought and flood first hand on the farm before moving to the Coast. We take rain here for granted now but I will NEVER forget how much every drop or even the smell of rain means to people who live in Western QLD means.
Over the past 5 to 7 years I have witnessed first hand the devastating drought which has crippled even the strongest and best prepared people in QLD, Australia.
To learn from you the reports of the recent rainfall, flood and trust in our forecasts means the world to me.
The people in the outback of this country are often forgotten by government, banks and city folk….
You will NEVER be forgotten on Higgins Storm Chasing both on a weather forecast and personal level.
I really hope that the recent rains bring both hope and relief. I also hope that those who have missed out get their turn soon.
❤️
~ Jeff ~"
"Oh Jeff that truly means the world to us. We love it out here but some days its tough. We have friends who have not received anything and its a terrible feeling. We hope there times is coming soon. We are happy for you to share our message. Im trying to send some pics but our internet is not the most reliable haha." Sheree and John

---
We have an overwhelming supportive member base of 750,000 followers on Facebook along with our 8000 strong Premium Members who subscribe to our weather services. Qualified or not we have vast experience in weather forecasting and reporting in QLD. In any industry you will get haters, people who support you or go to other sources for information, that is the choice they make which they are fully entitled to in life. I will take the ABC report as nothing but a desperate media grab for some people to try and point their fingers at. To the majority members of the public who trust, believe and support us THANK YOU 🙂



---