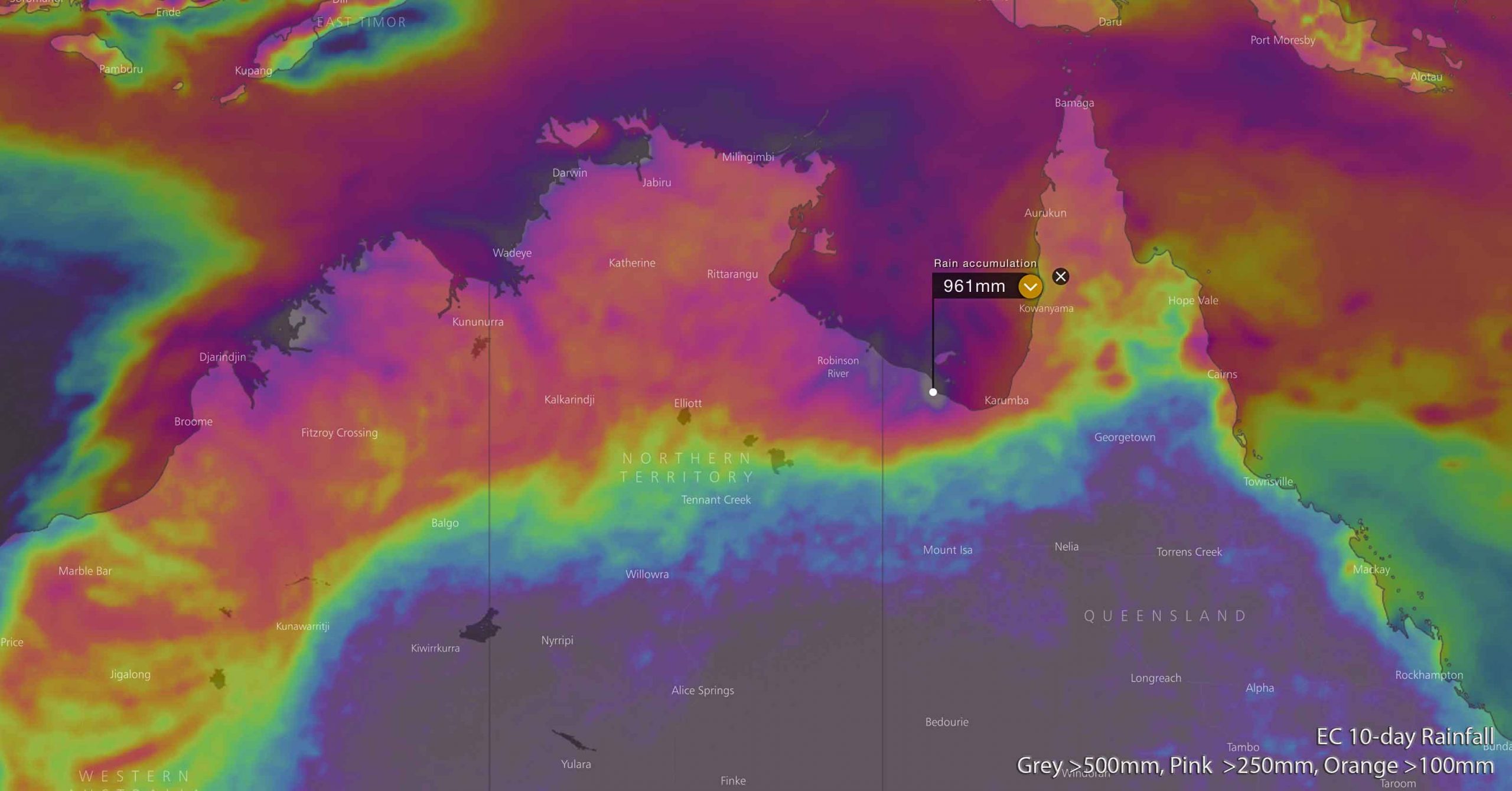 21 Jan

Twin Tropical Low's to increase the Monsoon's impact!
After scattered falls of 100-300mm+ over Far North QLD and the Northern NT over the past few days, it looks like twin tropical low's are forecast to combine with a stubborn monsoon trough to produce another drenching of a week! Above image via Windy showing the next 10 days rainfall.
[wp_ad_camp_1]
The monsoon trough and deep monsoon flow have become evident over the Northern Tropics over the past few days with large parts of the NT Tropics, Gulf of Carpentaria and Far North QLD recording well over 100mm, and some locations recording up to 500mm in the past 4-5 days. If forecast models are anything to go by, it looks like these totals are set to increase and become even more widespread… finally impact populated areas.
The monsoon trough is forecast to be the kicker. Its forecast by all models to not only deepen and strengthen, producing a more consistent moisture pull over the Northern half of the Country leading to more widespread rain areas and heavier rain, but its also expected to become extremely stubborn and will barely budge for the next week at least!
[wp_ad_camp_3]
Along the trough however, a weak tropical low has already been identified over the far South West Gulf of Carpentaria and this is likely to significantly enhance rainfall totals around the Gulf Coast, particularly through the Eastern NT and Far North West of QLD. Another tropical low is forecast to develop over the Joseph Bonaparte Gulf (North of the Kimberley) and move into the Kimberley towards the end of the week. This is likely to increase rainfall over the Western NT and Northern WA regions. Over the next week, another 100-200mm is expected to become widespread across the Northern half of the country and this is likely to impact populated places like Broome, Weipa, Cairns and possibly Townsville (but don't hold us to that… Townsville has its own weather when it comes to rain). Scattered falls of 300mm+ are likely across the Coastline and this will likely impact the Gulf Coast and the NT Coast including Darwin. Isolated falls of 500mm+ are likely over the Gulf Coast including Mornington Island where potential falls of more than 800mm being indicated by several models!
[wp_ad_camp_1]
It may have been a slow start to the season for many places, but it looks like January is going to try its best to make up for that and more! At this stage there are no indicators of tropical cyclone developments over the next week… but lets just enjoy the rain first!