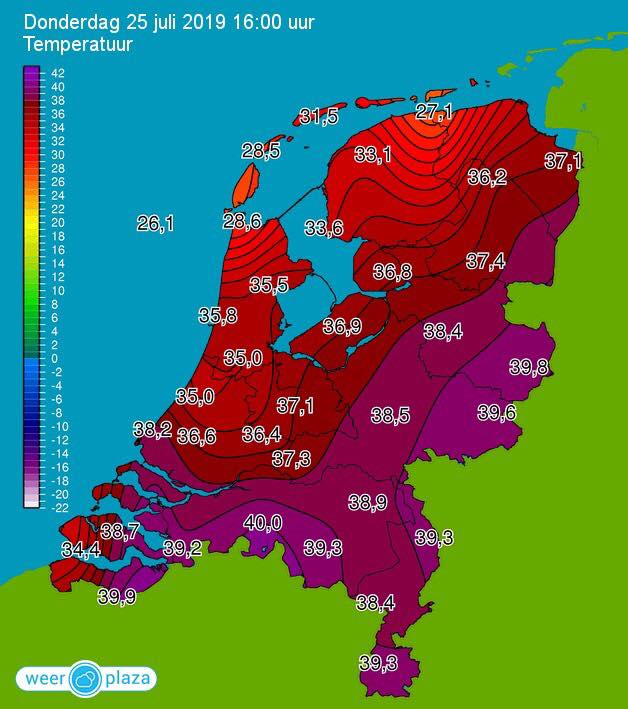 26 Jul

Unprecedented Heat Bakes Europe Shattering All-Time Records
Europe is in the midst of one of the most vile and unprecedented, dangerous heatwaves the region has ever experienced with multiple countries shattering long standing, all-time temperature records. Above image – Temperatures for 4pm Thursday across Holland. Image via Weerplaza.
We (as Australian's) love to make fun of Europeans, especially the Poms, for complaining about the heat when it gets into the mid 20's. This however, would still be classed as a dangerous heatwave in Australia and its affecting countries that cant cope with it. 
An extremely hot airmass is moving through Europe at the moment and surging ridiculous heat across large parts of Europe. During Wednesday and Thursday, Holland (The Netherlands) saw maximums reach 39ºc and 41ºc respectively. This shattered the old all-time record of 38ºc and was the first time ever the country experienced a 40ºc day. Belgium has recorded back to back 40ºc days on both Wednesday and Thursday as well – this is the first time ever that the country has experienced a 40ºc temperature. Unofficial reports from both Holland and Belgium came through with temperatures nudging 42-44ºc in some areas. Before anyone wants to criticise them for complaining – this is about double their average for Summer (Amsterdam averages around 20ºc for July) – so for an unfair comparison, 20ºc above average puts Brisbane on a 51ºc January day… and Brisbanites would have ever right to complain with that. Germany has seen 25 individual locations crack the 40ºc mark with some up around 42-43ºc… prior to this heatwave, Germany had only recorded 40ºc once in its history, that record has been shattered. 
London didn't escape the heat either. Cambridge topped at 38.1ºc, which broke the July record but fell just short of the all-time record for the UK set in August. London pushed the mid to high 30's as well with unofficial temperatures of between 39 & 41ºc coming out of London leading to many workers sent home. Paris saw maximums climb to 43ºc, shattering the old all-time record of 40.4ºc with large parts of Spain and France climbing into the mid 40's for the 2nd time this Summer. 
Temperatures are expected to climb into the high 30's and low 40's once again across The Netherlands, Germany, Belgium and France. Further temperatures in the mid to high 30's are expected over Southern and Central Spain and London may push 30ºc again. European homes are designed to KEEP THE HEAT IN. They are double bricked, and while 80% of Australian's have air conditioning… only 3% of European homes have air con. The heat is drawn in and trapped. This helps them survive the brutal Winter's that Australians will never experience. The heat has sparked many out of control wildfires across many Countries with an excessive amount of heat related illness cases being reported.

Temperatures are expected to cool off over the weekend gradually as a low pressure system moves in off the Ocean and helps produce rain and storms to various regions over a number of days into next week. 
[/fusion_text][/fusion_builder_column][/fusion_builder_row][/fusion_builder_container]