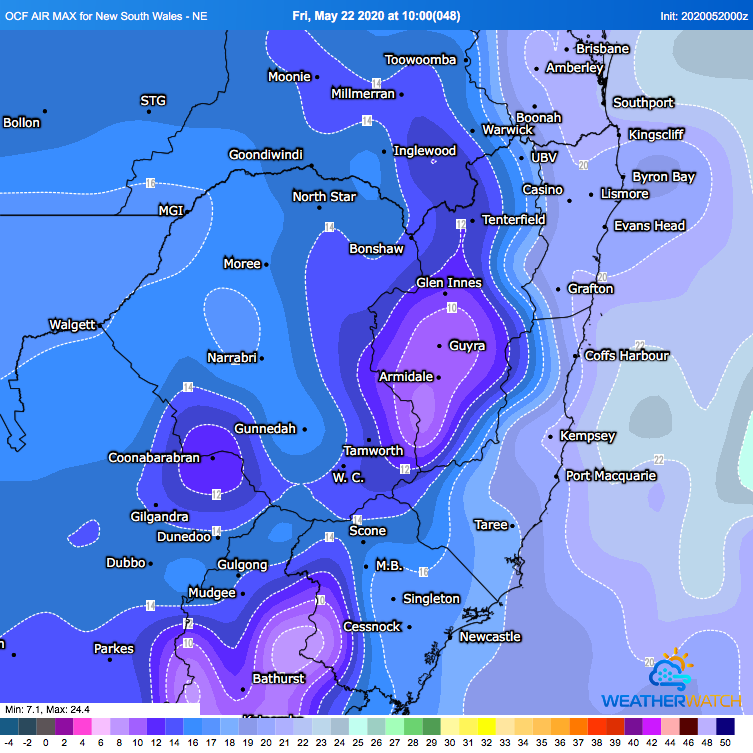 20 May

Very Cold Temperatures Forecast for NSW Ranges
Issued Wednesday, May 20th 2020. Freezing conditions are expected to impact large parts of NSW and Victoria but more specifically the NSW Ranges including the Northern Tablelands, Central Tablelands and Snowy Mountains over the next several days.
[wp_ad_camp_3]
A combination of strong to locally damaging South to South West winds, widespread cloud coverage, rain (and for some places snow) is expected to impact Eastern & North Eastern VIC as well as the Eastern half of NSW. These conditions will all combine to bring well below average temperatures to large parts of NSW, with the Ranges and elevated terrain being particularly vulnerable. While its normal for these kinds of systems to have an impact on the Snowy Mountains with maximum temperatures near or below 0 degrees leading to snow, with damaging winds dropping the feels like temperature to below -10 degrees, maybe even -15 or 20 degrees in the more extreme vigorous circumstances… the Central Tablelands and Northern Tablelands of NSW will be having their fair share with this system too.
[wp_ad_camp_1]
Across Friday, Saturday, Sunday and possibly into Monday… temperatures are going to struggle to around 8-9 degrees across the Central Tablelands with locations like Orange, Oberon, Lithgow and the Jenolan Caves going for maximums on Friday and/or Saturday of 7 or 8 degrees and during this time, especially with snow around, the temperature will realistically be closer to 2, 3 or 4 degrees.
[wp_ad_camp_2]
Across the Northern Tablelands, between Friday and Monday.. Guyra is forecast to not exceed 10 degrees, with the coldest maximum being 8 degrees on Friday. Armidale is going for just 10 degrees on Friday with other areas struggling to reach double digits as well. Wind chill across these areas will likely make it feel between 4 and 8 degrees colder. Minimums across these areas as well will drop to below freezing on numerous mornings which will likely result in a very slow build up in temperatures.