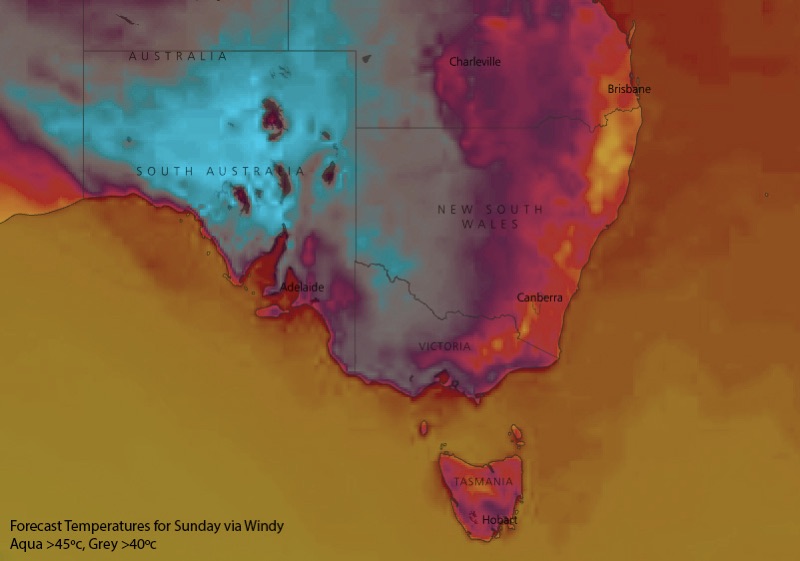 24 Jan

Vile Australia Day Weekend Heatwave for SE AUS
South East Australia is set to prepare for another scorching heatwave with maximums likely to climb back into the mid to high 40's for some! Above image – forecast temperatures via Windy (EC) for Sunday (Aqua >45ºc, grey >40ºc).
[wp_ad_camp_1]
A low pressure trough is set to become established across Southern and South East Australia over the Australia Day weekend sparking another heatwave as it helps draw in very hot air from the WA Pilbara and NT across the region leading to temperatures skyrocketing! This comes after the region (SA, VIC, Inland NSW & TAS) has had next to no break from the past 2 heatwaves which have moved through over the last 7 to 10 days.
Across South Australia the heat is really expected to pick up on Friday with maximums into the high 40's over Northern districts and high 30's / low 40's elsewhere. During Saturday the majority of the State is expected to see 40ºc+ before a cool change starts to impact some of the Western districts on Sunday bringing localised relief… not before the rest of the State sees another 40ºc+ day. Even Adelaide itself is going for 38ºc on Friday before 42ºc on both Saturday and Sunday.
For NSW, VIC and TAS it'll be warm on Friday with temperatures well above average, but the heat is expected to really kick up over the weekend with temperatures climbing into the low to mid 40's through North West VIC and Inland NSW. Closer to the coast it'll be just as hot with Melbourne going for possibly 40ºc on Sunday and Sydney's West is expected to see the mid to high 30's also. TAS could be the surprise of the lot with maximums expected to reach the mid to possibly high 30's over the weekend, to be honest someone could hit 40ºc.
[wp_ad_camp_1]
Like every other heatwave at this time of year, its not uncommon, its just with Australia Day celebrations going off, people outdoors in parks and beaches having fun and enjoying this great sunburnt country of ours… along with the consumption of alcohol, the risk of heat stress and heat related illness will dramatically increase. So please take the necessary precautions to have a great, but safe weekend!