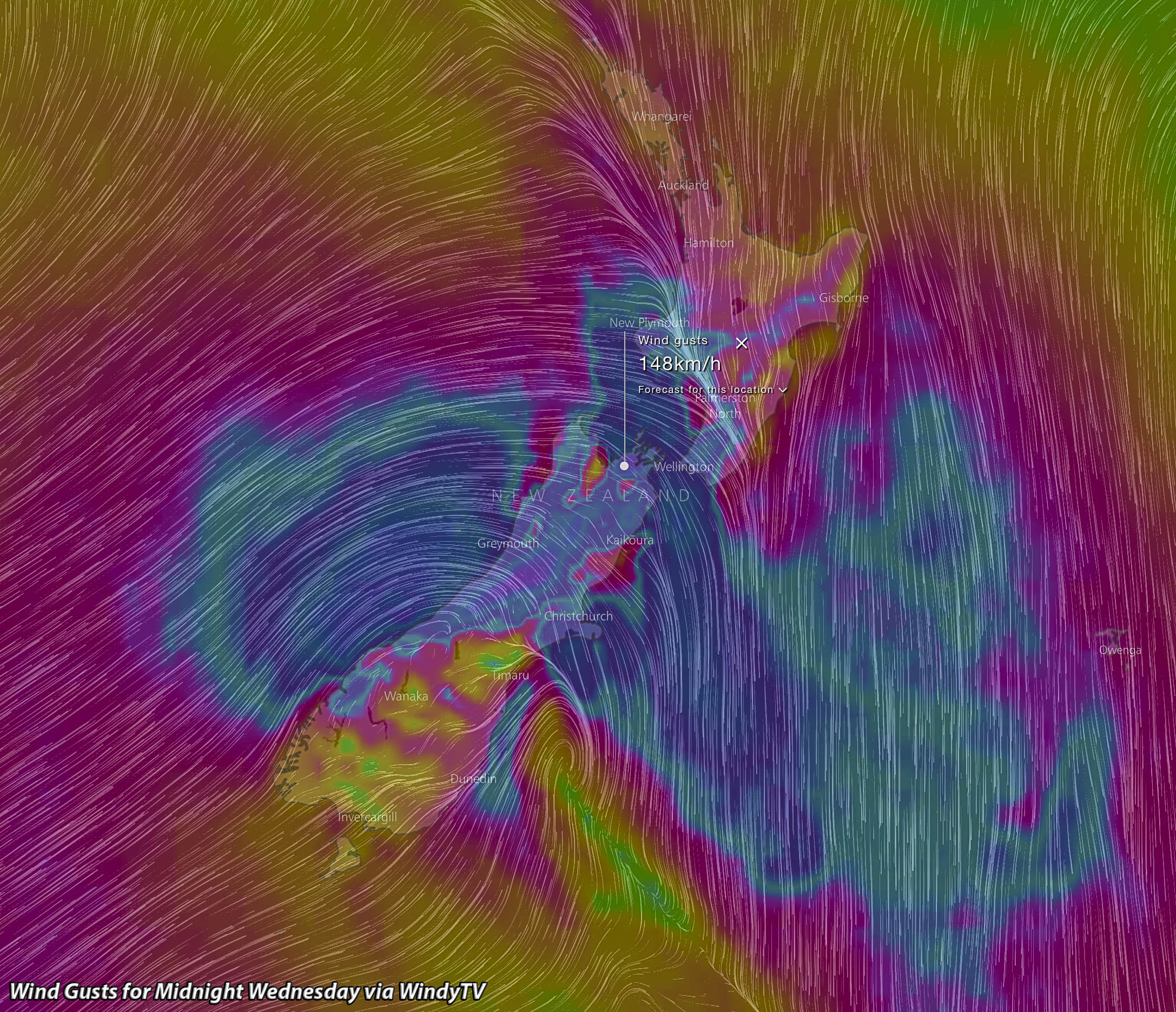 07 Nov

Volatile Weather to strike NZ!
Large parts of New Zealand are about to experience widespread severe weather as a low and associated trough move across the Country! Above image: Wind gusts via WindyTV for Midnight Wednesday (aqua >90km/h, purple >125km/h).
[wp_ad_camp_1]
A deepening low pressure system with a pressure of around 975-980hpa (equivalent of a Category 2 Cyclone in the tropics), is expected to cross the South Island of New Zealand late on Tuesday and during the overnight hours into Wednesday. This low is expected to have a trough associated with it which will stretch back towards the North and North-West, covering the North Island and this should also move through overnight Tuesday into Wednesday bringing its own severe weather.
[wp_ad_camp_3]
The South Island and Cook Strait / Wellington are forecast to cop the worst of the weather. Winds across Cook Strait are likely going to exceed the destructive criteria of 125km/h and will likely nudge 150km/h in some areas. Widespread wind gusts of 90-130km/h are likely over the majority of the South Island also – starting during the evening over the Alps and spreading to the East Coast overnight into Wednesday. These kinds of winds can cause widespread damage to trees, power and property. Heavy rainfall is also likely with falls of 100mm+ likely over parts of the South Island and localised falls of up to 150-180mm forecast. These kinds of falls could cause localised flash flooding and localised river and creek rises which may exceed flood levels.
[wp_ad_camp_1]
Heavy snow is also forecast both overnight Tuesday into Wednesday and throughout Wednesdays. Snow is forecast to fall to as low as 200m over Southern parts of the South Island, with heavy snow likely down to as low as 400m! Snowfall accumulations are expected to likely to exceed 50cm for many parts of the Alps, with up to 100cm possible in some parts. Snow is also likely in elevated parts of towns such as Canterbury, Otago and surrounds.