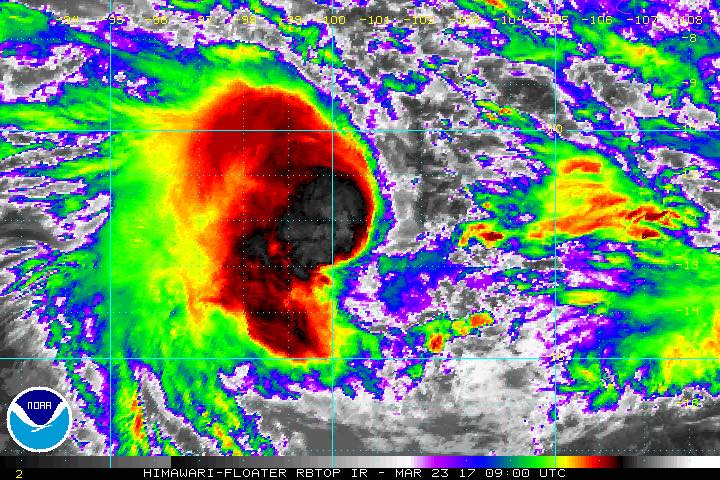 24 Mar

What happened to Caleb??
All the talk is about Cyclone Debbie and rightfully so as it poses an immediate threat on the QLD Coastline (being the next few days), but what happened to Cyclone Caleb, wasn't it next in line?? Above image via NOAA as Caleb developed
Yes thats true. The alphabet was up to 'Male & C'. Caleb was next in line to be named. It was a flip of the coin at one stage as to who would be named Caleb – either a Tropical Low which was racing for the Pilbara Coastline and MAY have had a slim chance of becoming a Cyclone shortly prior to landfall, or… the one which is in the Coral Sea and taking headlines.
[wp_ad_camp_3]
Well the Pilbara system failed to reach any great heights, although it did produce more than 250mm on Port Hedland. So naturally, the selection was going to go to QLD and the Coral Sea for Caleb's naming rights. That was until another Tropical Low between Christmas and Cocos Island's in the Indian Ocean, some 3500-4000km West of our Coral Sea focus, decided to have a burst of explosive convection that allowed it to reach the characteristics required for a Cyclone.
Caleb is now playing in the Indian Ocean and the only thing its disturbing is the fishes as its not expected to impact either Island out there, nor is it expected to come anywhere close to mainland Australia. The system is struggling to get much stronger than Category 1 strength and will most likely weaken below Cyclone strength late this weekend or early next week.
So with no other competing systems, the Coral Sea system will inevitably and eventually be named Tropical Cyclone Debbie.
[wp_ad_camp_3]