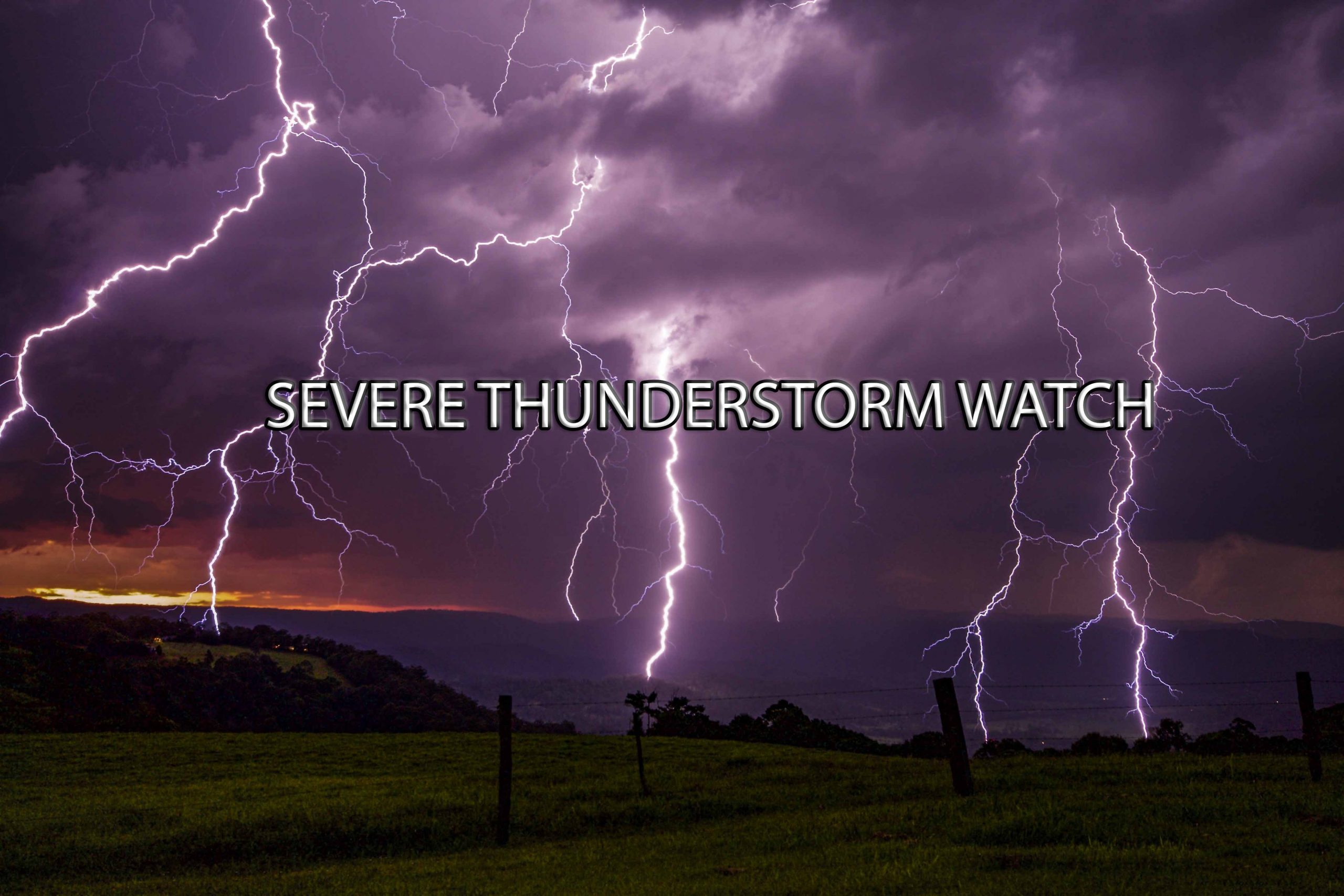 18 Jun

What Is A Severe Thunderstorm 'WATCH'?
A new concept for Higgins Storm Chasing is the issuance of a 'Severe Thunderstorm Watch'. This feature or concept will be greatly used during the severe weather season between October and April in particular, but is plausible any time of year that severe thunderstorms are deemed to be an increased risk. What this feature enables is further advanced warning of severe weather (specifically thunderstorms) on a specific day.
Firstly, its important to understand what a 'WATCH' is.
Severe thunderstorm 'WATCH' areas, are typically areas that are showing signs of producing severe weather (thunderstorms in particular) ahead of any development occurring. This is DIFFERENT to a warning, which is issued specifically for a thunderstorm that has severe characteristics already occurring. Often, the radar will show no activity at all when a watch is issued. This is also DIFFERENT from a forecast. A forecast is an indication of what computer model data is showing potential for, whereas a 'WATCH' is also incorporating some live data to not just narrow down more specific areas, but also narrow down more specific threats and more specific timing for such events to occur.
A 'watch' will be issued, when various characteristics are being noted on both forecast models, live data (such as radar and satellite) as well as live soundings (weather balloon soundings). This combination will lead to various areas on any given day being placed under a 'watch' area as their specific data is indicating severe thunderstorms are more likely than not to occur.
Each thunderstorm watch will be a continuing number for the season. This will mean 'Watch #111' won't be the 111th for the day, it will be the 111th for the season. What this will mean is no severe thunderstorm watch will be confused with another, as the same areas may receive multiple watches on multiple days during the season.
What does a 'WATCH' mean?
A severe thunderstorm watch means that live data is showing that severe thunderstorms are more likely than not to occur within the specific shaded area or outlined area. While NOT every thunderstorm within this area will become severe, it merely is there for further advanced warning that between these certain times (for example 3pm and 8pm), conditions will be favourable for severe thunderstorms to develop.
It is worth noting and also important to understand, that severe thunderstorms can occur outside of 'WATCH' areas. A 'WATCH' zone is not the bee-all and end-all of severe weather. For example, a severe thunderstorm watch may be issued for the Darling Downs, North West Slopes and Plains, Northern Tablelands and Granite Belt districts for 2pm to 7pm. However severe storms may develop over North West NSW and Southern Inland QLD earlier than that and then move into that area. In this scenario, a severe thunderstorm watch isn't covering the Northern Rivers or South East QLD Coast – this doesn't mean severe storms won't reach the Coast, a secondary watch may be required at 4pm for the 6pm to 10pm timeframe as storms move closer to the Coast and conditions remain favourable for severe storms reaching the Coast.
What threats are included in a Severe Thunderstorm Watch?
Severe storms are thunderstorms that are capable of producing damaging winds in excess of 90km/h, heavy rain which may lead to localised flash flooding and large hail (hailstones greater than 2cm). Not every severe storm is capable of producing all 3 threats. Some only produce damaging winds, some only heavy rain, some only large hail and some can produce a combination of the 3. Its important to read the severe thunderstorm watch text which will be provided as each specific watch will indicate the main risks or categorise each risk for their potential to occur – ie. Damaging winds "high chance", heavy rain "low chance", large hail "low chance" – this would be damaging winds are the main threat. If all 3 risks are classed as "high", then all 3 risks may occur.
For reference,
"LOW" is less than a 25% chance, or in other words 1 in 4 severe storms
"MODERATE" is between 25 and 50% chance, or in other words roughly 1 in 3 or every second severe storm
"HIGH" is between 50 and 75% chance, or greater than 1 in every 2 storms
and, "VERY HIGH" is a greater than 75% chance of occurring.
Of course, in rarer circumstances, destructive winds in excess of 125km/h, giant hail (hailstones in excess of 5cm in diameter) and torrential rainfall may occur – these watches will be classed as "very dangerous". In the even rarer circumstance that conditions become favourable for tornadoes, then a tornado watch or supercell watch featuring tornadoes will be issued.