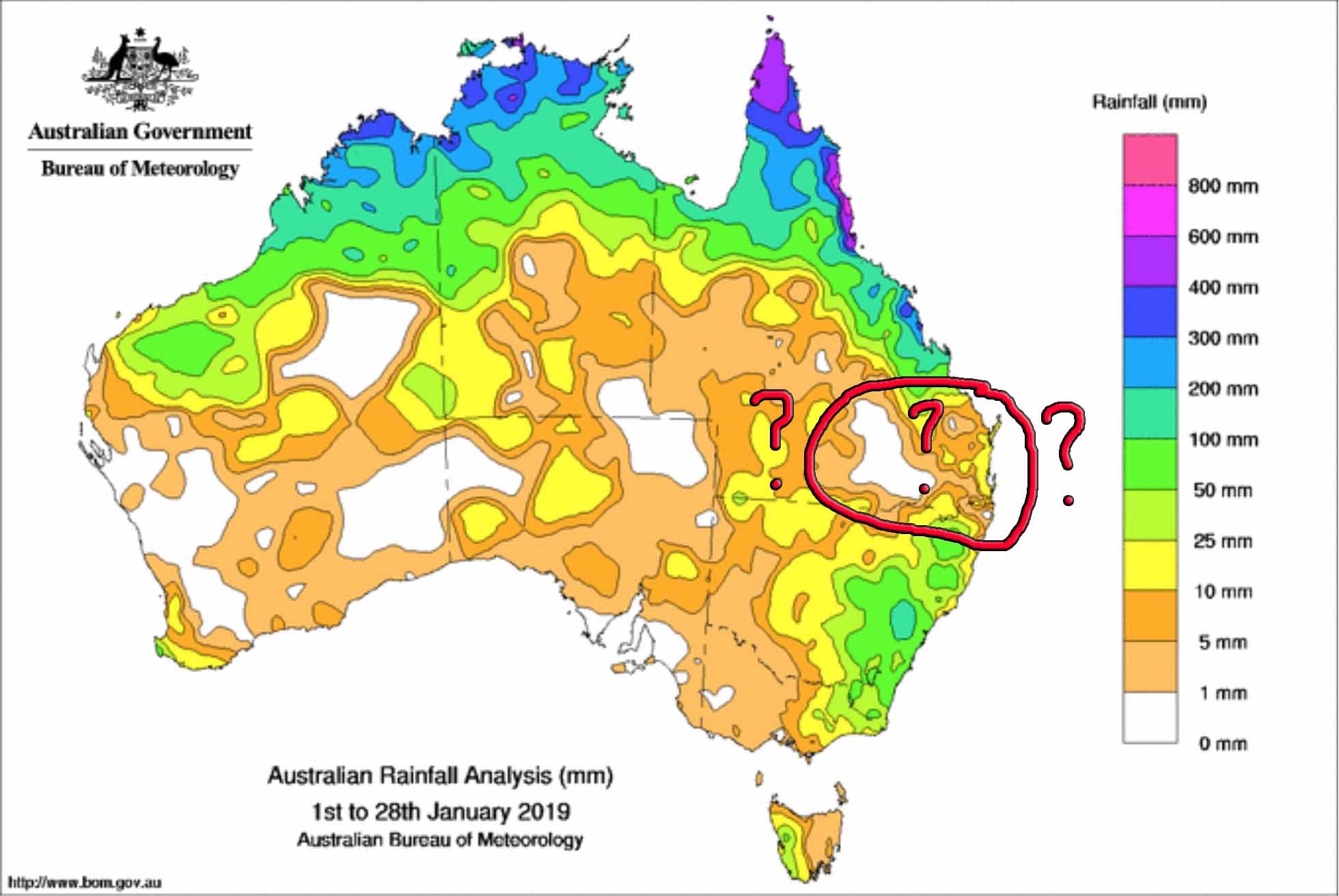 28 Jan

Where Has SEQLD & NENSW Rain & Storms Gone??
In the last 15 years, Brisbane has only had 1 drier January (last year by 1mm less than this year). In the past 15 years, the lowest rainfall total for January at Ipswich was 54mm…. this year its a measly 5mm! I bet those in Toowoomba didn't think they could top last years pathetic 8.6mm, well this January the region has only received 4.8mm – the driest January in 20 years. Dalby has picked up just 0.2mm – its driest January in 25 years. Beaudesert just 2mm. Kingaroy 0.8mm (driest January in 15 years). While in North East NSW, Lismore, Casino, Grafton and Coffs Harbour all broke their records for the longest continuous run of days without any rain being recorded – some of those streaks were over 120 years old!
[wp_ad_camp_1]
So where did all the rain go?

Gatton has recorded 14 consecutive days above 35ºc – potentially a new record. Brisbane has recorded 13 straight days above 32ºc, Ipswich 33 straight days above 30ºc. So there certainly isn't a lack of heat across the region. The days have been constantly warm and muggy. Most of us know that means storms are brewing. However we havent seen a storm North of the Gold Coast now in about 6 weeks. The only 2 storm days since about Mid December have been over the Gold Coast and Gold Coast Hinterland region. Of course, this is making people frustrated… lawns are dying, local dams and watering holes are drying up, tanks are down to the bare minimum now.
[wp_ad_camp_2]
Its all because of 2 things. 1) We have a constant high pressure ridge which has bene sitting over the Tasman Sea (this is partially responsible for the 3-4 week endless heatwave over the rest of Australia, and part of the reason why Eastern QLD didn't receive the extreme heat). Thats all well and good to have a high there, that doesn't hurt anything. High's over the Tasman Sea provide Eastern QLD with an onshore flow which help generate showers and storms… IF a trough is in place and 2) We havent had a trough.
[wp_ad_camp_4]
Essentially what is happening, is we are getting low level moisture streaming onto the QLD Coast South of Mackay and across North East NSW (North of Port Macquarie). This onshore flow is combining with warm air aloft which is producing these warm, above average temperatures with muggy humidity. The reason though that nothing has eventuated is because there is no trough in place.. that heat and humidity cant be lifted into the middle and upper levels of the atmosphere and become beneficial. At the moment, the heat is rising into much drier air aloft which is suppressing any shower potential. In laymen terms – think of it like a blowdryer. The moisture is rising up with the natural heating (hot air rises), then all of a sudden its hits this area of much drier air. Thats like a blow dryer killing that mediocre moisture content instantly. It might provide us with a cloud or two, but thats it. The evidence is obvious when comparing atmospheric soundings with each other. Below we have a sounding for Wednesday upcoming at Brisbane and the Greater Brisbane area – you can see circled in purple on the left, the red lines are closer together – this is some low level moisture (perfect!)… go up a little bit to around 5,000ft and BAM! In the yellow circle, those lines are ridiculously far apart. The computer generated model is indicating some very light showers over the region (as seen on the right), but if those showers were to go… because its so dry just above the surface… theyll last less than 5minutes and probably won't even wet the ground fully. It'll be a giant tease. Move over to Sunday though, and the sounding is very different. The red lines are much closer together. You can see the red lines are reasonably close up to around 25,000ft (its not perfect, but its better than having a giant hole in the middle of the image like Wednesday). This is indicating we have better moisture aloft, and that any moisture rising into the atmosphere is probably going to be allowed to do its thing – as a result of this, the computer generated rainfall prediction is showing much better rainfall potential on the right.
These kinds of scenarios happen literally every week, if not multiple times a week across South East QLD and North East NSW during the Summer seasons. Thats why we have fine days. It might seem weird, but when the weather pattern doesn't change for an extensive period of time, then that same scenario is replayed over and over and over and over again. Soon you have 30 days rain free and counting. Soon you have 55 days storm free.
Will the rain return? Yes. Eventually things will change. How long will that be.. who knows. For some it could be much sooner than for others. Eventually the storms will return. Eventually we will probably be complaining about too much rain. Until then, we just need to buckle down, keep toughing it out and helping each other. Conditions will only get worse until the switch flicks and we see the greener grass on the other side.