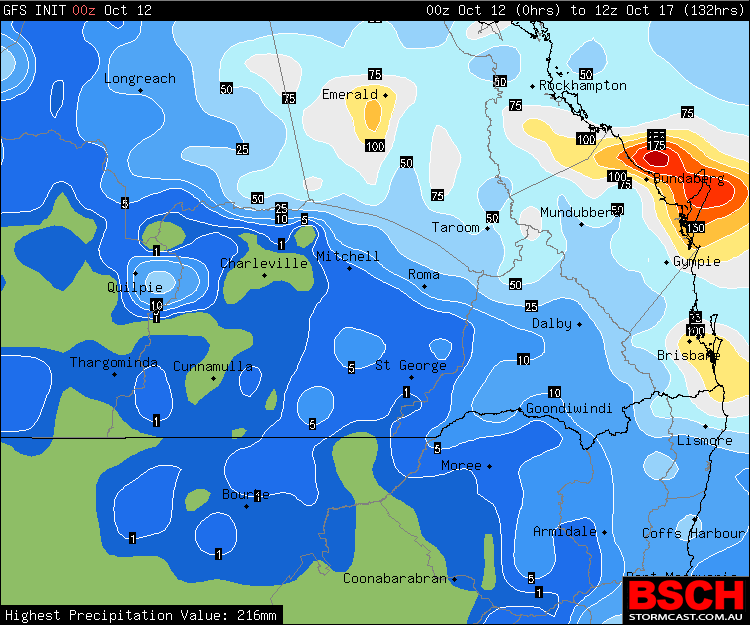 12 Oct

Widespread Rain Likely for Central & South-East QLD
Issued 5:30pm Thursday, October 12th 2017.

It looks like the South-Eastern quarter of QLD stretching from Rockhampton / Emerald South to Northern NSW is expected to see some impressive rainfall over the next 4-5 days. Please read this carefully, as not all of the rain is forecast to fall in 1 day and it will be falling on different days for different areas….
[wp_ad_camp_1]
Overall, falls of 50mm+ are expected across the majority of the region – particularly East of the Ranges where models are indicating 100mm+ and isolated much higher totals being possible. This is all being generated by a surface and upper level trough, combining with a potential offshore surface low, generating a constant onshore flow over the region leading to showers, rain periods and thunderstorms.
South-East Coast & Wide Bay (South of Bundaberg to the Gold Coast): Scattered showers and isolated storms producing heavy rain are expected during Friday, these storms will be hit and miss but for those under them – they'll produce good falls. Its from Saturday until Monday when activity really ramps up –

click here for area specific blog
[wp_ad_camp_3]
Capricornia (North of Bundaberg to Rockhampton): Showers, some rain areas and isolated storms are expected on Friday and could linger into Saturday generating widespread reasonable falls. Its on Sunday (Bundaberg to Gladstone) and then Monday & Tuesday (Bundaberg to Rockhampton) where the heavier totals are likely. The highest falls are expected along the Coast and totals of 50-100mm are likely, with isolated higher falls to 200mm being possible.
Central Highlands & Darling Downs: Rain areas and storms (some severe) are likely across the Central Highlands on Friday producing good falls of 20-40mm, as well as being possible over the Darling Downs (mostly North of Dalby / Miles). Showers are then expected to linger each day until Tuesday with the heaviest falls over the Eastern Darling Downs on Saturday, and the Central Highlands on Tuesday. Good falls of 25-50mm are expected, with isolated higher totals of 100mm+ are possible over the Central Highlands.
[wp_ad_camp_1]
Note: The rain is still forecast further North across the Central and Tropical North QLD Coast regions (Mackay to Cooktown, East of the Ranges). However, given this isn't expected to kick in until after the weekend, there is still time for models to move the predicted totals around. A forecast specific blog will be issued for these regions over the weekend.