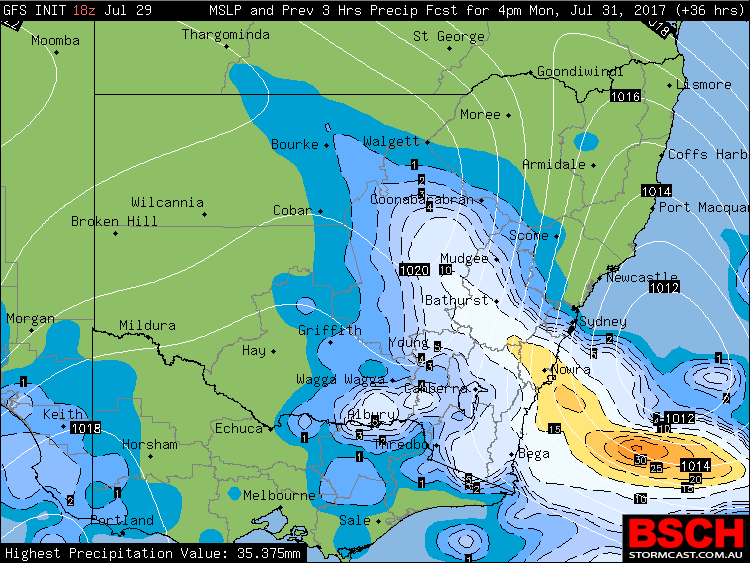 30 Jul

Wild Monday for NSW & VIC
Monday is expected to produce all seasons in 1 day for both NSW and VIC as multiple weather systems impact both States from early on Monday into early Tuesday. Above image 4pm pressure chart / rainfall overlay via BSCH / OCF showing the low offshore and the rain areas.
[wp_ad_camp_3]

During Sunday afternoon, a surface trough was situated over North-Western, Central Inland and Southern / Central Coastal NSW. During the next 24hrs or so, this trough is expected to shift North-East and become established over Northern Inland and Central Coastal NSW before moving into North-Eastern NSW later in the evening. Ahead of this trough, very warm Northerly winds are expected to produce well above average temperatures with parts of Northern Inland NSW heading for maximums into the mid to high 20's (up to 8-10ºc above average). Later in the day when an increase in moisture mixes with the warmer temperatures, there is a chance of some isolated thunderstorms across the Northern Tablelands, Northern Inland NSW and possibly the Northern Rivers / Mid North Coast / Hunter (but its only a small chance at best).
[wp_ad_camp_1]

Across VIC and Southern NSW, a strong upper level trough is expected to move over the region during the late morning and into the evening, before exiting off the NSW South Coast overnight into Tuesday. This upper trough is expected to be the trigger of isolated to possibly scattered thunderstorms which will likely produce small hail, along with hail showers across much of VIC (especially Central Districts including Melbourne) and Southern Inland NSW. These storms and showers may reach Eastern VIC and the NSW South Coast later overnight as the system moves through. Damaging winds may also accompany thunderstorms, but this isn't a high risk – hail is the bigger and more likely risk.
[wp_ad_camp_4]

Across Southern NSW and Eastern VIC, not only is there the small risk of thunderstorms / hailstorms but a low pressure system (possible East Coast Low) is expected to develop offshore from the NSW Coast during the late evening and overnight into Tuesday. This low is likely to produce constant onshore winds leading to showers and rain areas overnight Monday into Tuesday which may produce falls of 50mm+ along the NSW South Coast and scattered falls of 25-50mm are likely across the region which may lead to localised flash flooding. This system may also produce strong gusty winds along the Coastline, along with Snow over the Alps down to 1200m where falls of 5cm are likely and 10cm is possible. The system should clear the Coast early enough on Tuesday morning for fresh winds to remain, and temperatures to drop to as low as -5 or -6ºc in some places over Southern NSW.