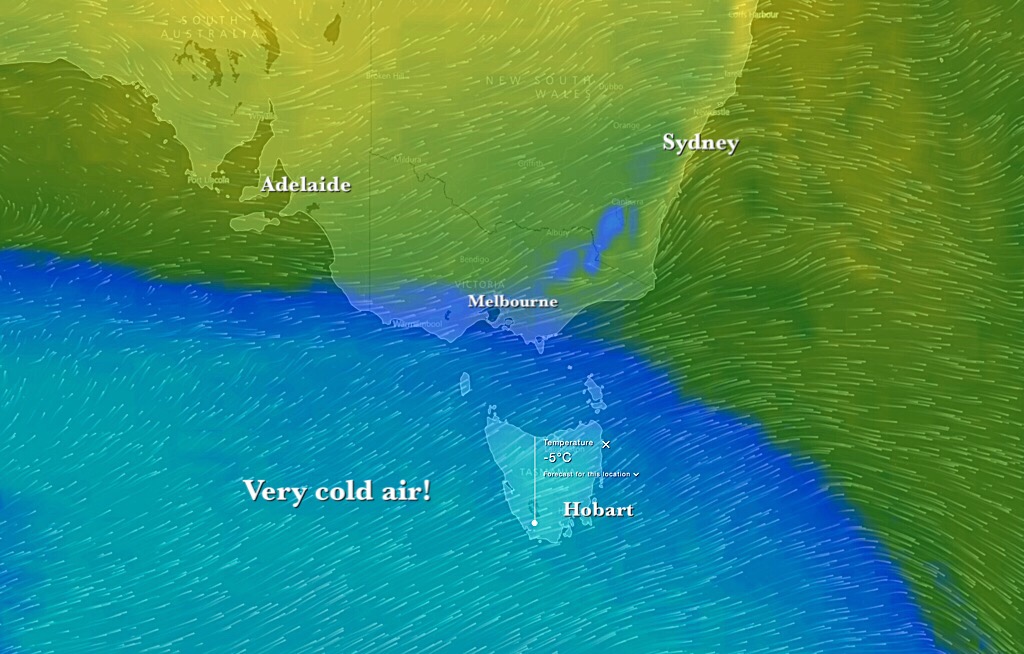 22 Jun

Winter Finally Arriving In Tasmania
[wp_ad_camp_2]

Issued 22nd June 2017.

After a very warm start to Winter with temperatures up to 5c above average, Tasmania and Hobart are about to finally get decent cold blast! For the past 3 weeks, maximum temperatures in Hobart have averaged 3c above normal but that is about to change as a series of back to back cold fronts move through. Above image showing the first cold air mass to move through Friday and Saturday via Windy. Subscribe to HSC for detailed forecasts and warnings across Australia!

On Friday morning a front will sweep across the state with strong North West winds. By the afternoon scattered showers are expected through most districts as winds turn cold South Westerly. The low to mid level polar air arrives during Friday night into Saturday with snow falls down to a low 400m. On Saturday Hobart is expecting a top temp of 11c which is 1c below average for this time of year.

Another fresh burst of South West winds and cold air is expected later on Sunday again with scattered showers mainly through the Western half. Snow will again fall above 700m.

Over the next 4 days the Western half is forecast to receive 25 to 50mm of rain while the Eastern half will see much less with up to 10mm.

[wp_ad_camp_4]

Total snowfall during the next 6 days could see up to 20cm on the Central Highlands while Mt Wellington should see a 5cm white covering above 600m. Hobart's maximum temperature will stay down around the June average of 12c well into next week. Below image via Windy.