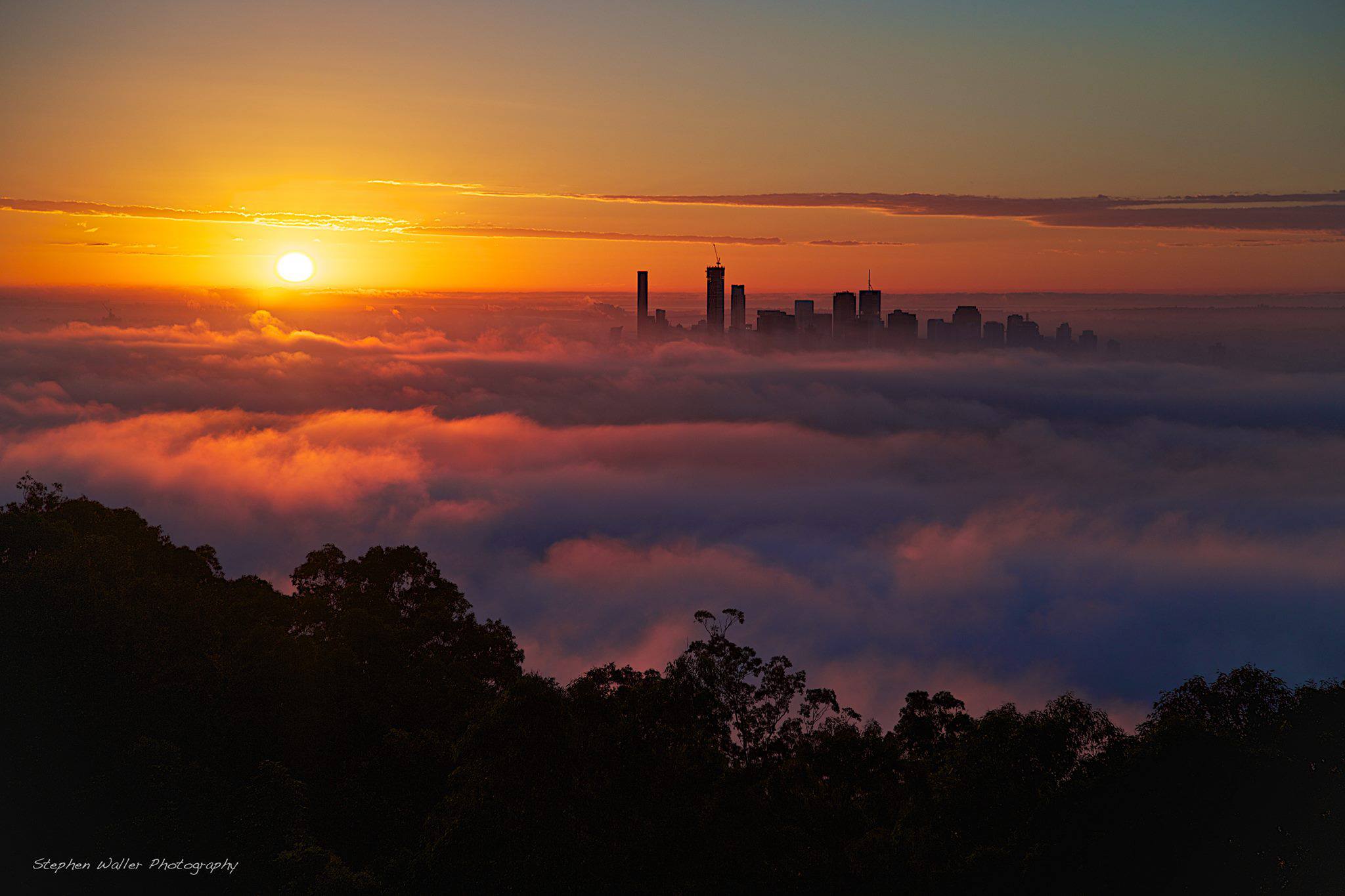 17 May

Fog formations in SEQLD & what causes them
Fog is essentially cloud on the ground which reduces visibility to less than 1km and is often referred to as "pea soup". There are several different types of fog, including radiation fog, advection fog, valley fog, upslope fog, sea fog and freezing fog. All types of fog are able to be visually seen once formed and all have one common effect which is to reduce visibility, in some cases down to less than 50 metres. Thick fog creates hazardous driving conditions and greatly affects other modes of transport such as aviation and boating. In this article we will look at the 4 most common types of fog which occur most frequently during the Autumn and Winter months in the South East Queensland region.
Radiation fog covers larger areas forming during the night and early morning when there are clear skies and calm winds. There has to also be high humidity and surface air temperature needs to cool to within 3ºc of the dew point. Ground surface heat which has built up during the day quickly cools after sunset with heat being released back into the atmosphere. As the earth cools the layer of air just above the surface also cools but it cools quicker than other air a bit higher up which causes the bottom layer of cool air to become trapped. The trapped air near the surface continues to cool nearing the dew point or 100% relative humidity then water vapour condenses into tiny water droplets and fog is formed. When sun rise occurs the trapped cool air and fog layer near the surface begins to warm causing a reversal in the process. Fog will tend to rise, lift and "burn off" as the surface air is warmed further, air temperatures in the lower atmosphere and surface are equalled out while the dew point seperates causing the fog to evaporate.
Valley fog is concentrated into smaller areas between hills and mountains during the night and early morning which can occur more frequently than radiation fog due to local environment assistance. The principles of valley fog formation remain the same as the radiation fog process however due to cold air being more dense than warm air it sinks down the surrounding slopes concentrating into low areas. This is known as cold air drainage which feeds in extra amounts of cold air from surrounding higher elevations down into the valley where there is less escape.
Upslope fog occurs on higher elevations and ranges at any time of day or night. This type of fog forms when warm moist winds (Easterlies in our case) are forced up the slope of a mountain. As the air mass rises higher up the slope, the air pressure lowers, the air expands, and it cools to reach its dew point causing condensation and fog formation. Upslope fog can be long lasting during daylight hours especially if there is cloud cover above to block the suns heating. Locations along the Great Dividing Ranges such as Toowoomba are most prone to these types of fog.
Lake fog also known as steam fog occurs over lakes, dams and rivers where the water temperature is much warmer than the air temperature. Water vapour rises from the warm water surface then once becoming mixed with, and rapidly cooled by surrounding air, it condenses into tiny water droplets forming fog. Light winds and a large temperature difference is required for the development of this type of fog which mostly occurs at night or the very early morning. Interesting to note that due to phsyics the fog will never be allowed to reach the water surface!