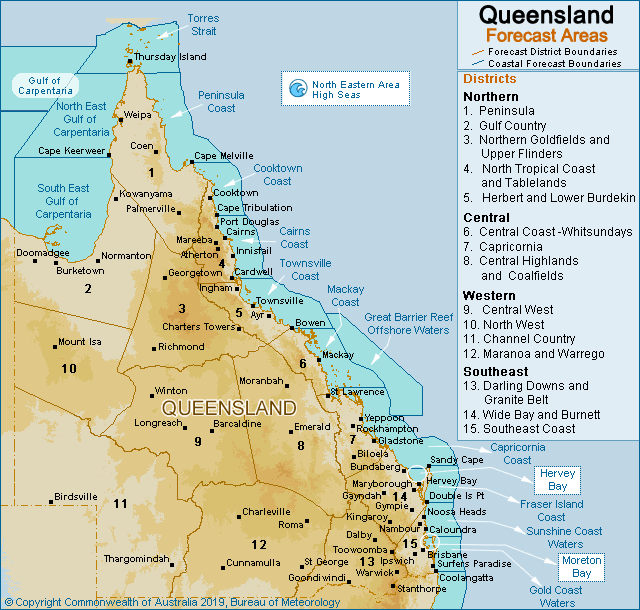 09 Aug

Know Your District – Queensland
When it comes to severe weather, regardless of the type of the scenario, one of the age old questions we receive on Higgins Storm Chasing, as well as any other weather page across the globe is 'Will this affect me at x". Generally 'districts' or much broader areas are labelled rather than specific towns. This is largely due to weather being unpredictable down to the nearest town and weather systems being quite large which means their potential is spread over hundreds of kilometres. Its also due to there sometimes being so many towns, that the list would be far too long for it to be beneficial. Some setups or systems are easier to predict than others, but even in those situations, districts or parts of district (i.e Coastal parts of the Northern Rivers and South East QLD Coast) are labelled. 
QUEENSLAND has 15 districts according to the Bureau of Meteorology which is the most reliable source for when it comes to district mapping in regards to weather. These districts including their respected towns or cities include – obviously not all towns are named, but if you recognise a nearby town, then chances are you are included in that district:
1 – Peninsula: Weipa, Coen, Lockhart River, Musgrave, Aurukun, Thursday Island, Palmerville.


2 – 

Gulf Country: Mornington Island, Normanton, Kowanyama, Burketown, Karumba, Doomadgee, Myola, Croydon, Four Ways, Gregory Downs, Sweers Island, Pormpuraaw.
3 – Northern Goldfields & Upper Flinders: Hughenden, Richmond, Nonda, Georgetown, Charters Towers, Homestead, Einasleigh, Mount Surprise, Forsayth.
4 – North Tropical Coast & Tablelands: Cairns, Innisfail, Atherton, Ravenshoe, South Johnstone, Port Douglas, Cape Tribulation, Cooktown, Daintree, Tully, Bilyana, Cardwell, Kirrama, Herberton, Wujal Wujal, Tinaroo, Gordonvale, Babinda, Mareeba, Mossman, Abergowrie, Japoonvale, Hope Vale.
5 – Herbert & Lower Burdekin: Townsville, Ingham, Ayr, Giru, Rollingstone, Halifax, Mingle, Dalbeg, Ravenswood, Clare, Home Hill, Alva, Nelly Bay, Magnetic Island, Greenvale, Hidden Valley, Bluewater, Deeragun, Woodstock, Lucinda.
6 – Central Coast & Whitsundays: Mackay, Sarina, Whitsunday Islands including Hamilton Island, Airlie Beach, Proserpine, Koumala, Carmila, Nebo, Finch Hatton, Eungella Ranges, Bowen, Collinsville, Eton, Marian, Hay Point, Cannonvale.
7 – Capricornia: Rockhampton, Gladstone, Emu Park, Yeppoon, Mount Morgan, Mount Larcom, St Lawrence, Biloela, Moura, Theodore, Calliope, Miriam Vale, Jambin, Byfield, Shoalwater.
8 – Central Highlands & Coalfields: Emerald, Taroom, Blackwater, Dingo, Moranbah, Clermont, Sapphire, Springsure, Rolleston, Comet, Dysart, Alpha, Sedgeford, Willows Gemfields, Middlemount, Glendon.
9 – Central West: Longreach, Ilfracombe, Blackall, Muttaburra, Barcaldine, Aramac, Tambo, Jericho, Cornfield, Winton, Morella, Tocal, Yaraka.
10 – North West: Mount Isa, Cloncurry, Julia Creek, Cannington, The Monument, Urandangie, Dajarra, Duchess, Kynuna, McKinlay, Camooweal.
11 – Channel Country: Birdsville, Boulia, Thargomindah, Jundah, Windorah, Diamantina Lakes, Stonehenge, Bedourie, Ballera, Eromanga, Quilpie.
12 – Warrego & Maranoa: St George, Charleville, Bollon, Cunnamulla, Morven, Mitchell, Roma, Augathella, Eulo, Dirranbandi, Hungerford, Injune, Surat, Durham


13 –

Darling Downs & Granite Belt: Warwick, Stanthorpe, Toowoomba, Clifton, Inglewood, Dalby, Oakey, Chinchilla, Tara, Cecil Plains, Goondiwindi, Meandarra, Wandoan, Miles, Thallon.
14 – Wide Bay & Burnett: Gympie, Tin Can Bay, Hervey Bay, Maryborough, Bundaberg, Childers, Gin Gin, Crows Nest, Nanango, Kingaroy, Murgon, Durong, Mundubbera, Eidsvold, Monto, Seventeen Seventy, Proston, Gayndah, Tiaro, Fraser Island.
15 – South East Coast: Brisbane, Ipswich, Amberley, Archerfield, Caboolture, Redcliffe, Gold Coast, Beaudesert, Boonah, Esk, Sunshine Coast, Noosa, Sunshine Coast Hinterland, Gold Coast Hinterland, Rathdowney, Coolangatta, Gatton, Kilcoy, Lowood, Moreton Island, South & North Stradbroke Islands.


Often while producing more broad scale weather forecasts, we will often group several districts together and use an overriding term, such as 'South Eastern QLD'. When we use the term 'South Eastern QLD', we are often referencing the South East Coast, Darling Downs, Granite Belt, Wide Bay & Burnett and sometimes the Capricornia – its roughly South of a line from Rockhampton to Emerald and East of Roma and St George. 'Inland' refers to areas West of the Great Dividing Range, while Southern Inland will include the Warrego & Maranoa, Darling Downs & Granite Belt. Central Inland will reference the Central West & Central Highlands and Northern Inland will be for the Northern Goldfields and parts of the North West districts.