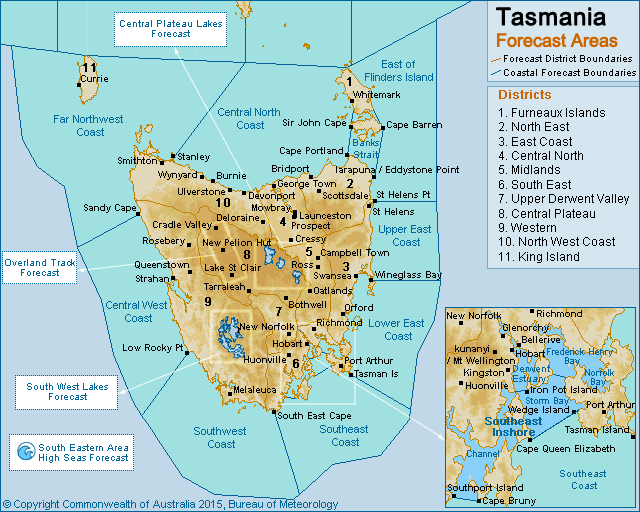 21 Jul

Know Your District – Tasmania
When it comes to severe weather, regardless of the type of the scenario, one of the age old questions we receive on Higgins Storm Chasing, as well as any other weather page across the globe is 'Will this affect me at x". Generally 'districts' or much broader areas are labelled rather than specific towns. This is largely due to weather being unpredictable down to the nearest town and weather systems being quite large which means their potential is spread over hundreds of kilometres. Its also due to there sometimes being so many town, that the list would be far too long for it to be beneficial. Some setups or systems are easier to predict than others, but even in those situations, districts or parts of a district (i.e Southern TAS, Western TAS, North West TAS) are labelled. 
Tasmania has 11 forecast districts according to the Bureau of Meteorology. These districts along with SOME of their respective towns include (Obviously not all towns are named, but if you recognise a nearby town, then chances are you are included in that district):
1 – Furneaux Islands: Whitemark, Long Island, Puncheon Island, Big Green Island, Badger Island, Mount Chappell Island, Little Dog Island, Tin Kettle Island, Clarke Island, Preservation Island, Cape Bareen Island, Loccota, Blue Rocks, Leeka, Killiecrankie, Wingaroo, Inner Sister Island, Outer Sister Island, Lackrana
2 – North East: Bridport, Scottsdale, Forester, Boobyalla, Waterhouse, Cape Portland, Eddystone, BinalongN Bay, Alberton, Herrick, Pyengena
3 – East Coast: St  Marys, St Helens, Scamander, Seymour, Bicheno, Swansea, Fingal, Buckland, Nugent, Triabunna, Coles Bay, Swanston, Lake Leake, Friendly Beaches, Dolphin Sands, Cranbrook, Avoca.
4 – Central North: Launceston, Cressy, George Town, Beaconsfield, Westbury, Melbourne, Bracknell, Holwell, Longford, Lilydale, Legana.
5 – Midlands: Ross, Oatlands, Campbell Town, Kempton, Tunbridge, Stonor, Bagdad, Kempton, Lemont, Jericho, Interlaken. 
6 – South East: Hobart, Kingston, Lauderdale, Sorell, Campania, Bridgewater, Fern Tree, Mt Wellington, Cygnet, Geeveston, Huonville, Franklin, Judbury, Southport, Dover, Old Beach, Clifton Beach, Cape Bruny, Port Arthur, Leslie Vale, Deep Bay, Eggs and Bacon Bay, Sandford, Richmond, Pontville, Dodges Ferry, Forcett, Grove, Collinsvale.
7 – Upper Derwent Valley: New Norfolk, Broadmarsh, Hamilton, Ouse, Strickland, Bradys Marsh, Ellendale, Uxbridge, Westerway, Hollow Tree, Karanja, Bushy Park, Plenty, Bothwell, Osterley, Moogara, Glenfern, Mount Lloyd. 
8 – Central Plateau: Liawenee, Lake St Clair, Cradle Valley, Bothwell, Cradle Mountain, Tarraleah, Mayberry, Miena, Breona, London Lakes, Bronte Park, Mersey Forest, Walls of Jerusalem, Lorinna, Meander. 
9 – Western: Strahan, Queenstown, Rosebery, Melaleuca, Strathgordon, Scotts Peak, Zeehan, Luina, Waratah, Maatsuyker Island, Lake Gordon, Gormanston, Renison Bell, Macquarie heads, Elliott Bay. 
10 – North West Coast: Smithton, Ulverstone, Wynyard, Burnie, Deloraine, Devonport, Yolla, Luncheon Hill, Marrawah, Woolnorth, Sheffield, Wilmot, Hampshire, Abbotsham, Melrose, Stoodley, Floerdale, Sistsr Beach, Edcumbe Beach, Wiltshire, Forest. 
11 – King Island: Currie, Lymbwood, Pearshape, Grassy, Surprise Bay, Sea Elephant, Naracoopa, Reeker, Dungaree, Wickham, Egg Lagoon.
Tasmania is a unique State in that most districts are generally named after their location. However.. in some circumstances we will group the Western half of the State together which will include the West Coast, North West, King Island, Western parts of the Central Plateau. The Central Plateau can sometimes be also named the "Central Highlands" when referring to snow, and this will also incorporate the Midlands district, Southern parts of the Central North (South of Launceston) and the Upper Derwent Valley. The South East in a general sense may include the East Coast (Southern parts of the it), Southern parts of the West Coast, the South East district and parts of the Upper Derwent Valley as well as any offshore Islands.