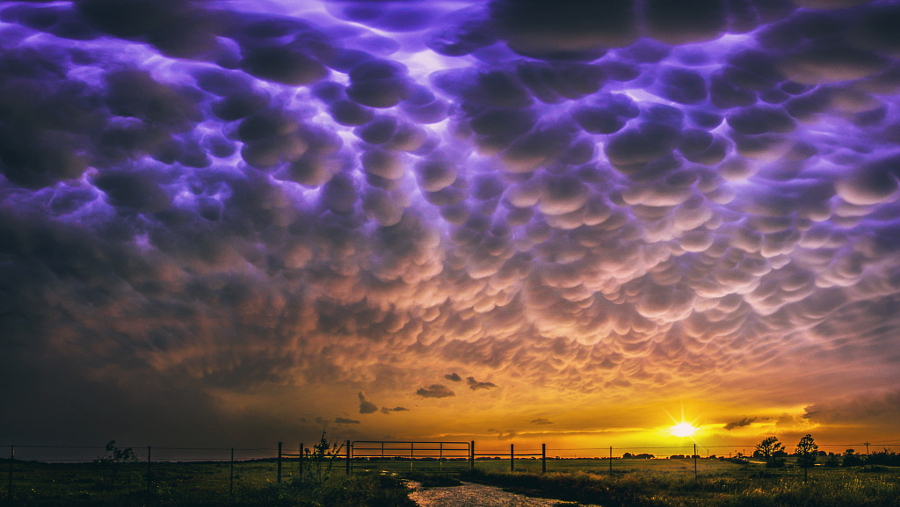 15 Oct

Mammatus Clouds
Mammatus clouds are some of the most recognisable and photogenic clouds on Earth, with their distinct and unusual lumpy appearance being a noticeable characteristic which separates it from literally every other cloud type. Mammatus is derived from the latin word "mamma" which can be translated to either "udder" or "breast" and this along with the fact that they can look like breasts in the sky… gives them the iconic nickname of "booby clouds". 
Mammatus clouds can very from flat, small bulges to very protruding, large, well defined bulges. They are typically caused by high levels of instability within thunderstorm clouds and are often seen hanging down from the anvil of supercell thunderstorms or very strong thunderstorms. The stronger the instability within the thunderstorm itself, the more prominent the mammatus clouds are. Their presence can also mean that the thunderstorms they are protruding from are of a severe nature (or as stated before, supercells). In saying that, not all mammatus clouds are seen with thunderstorms… some develop under rain-free, more calmer conditions however this is a far less common occurrence. Mammatus clouds themselves won't produce any precipitation and more often than not they occur on the backside of thunderstorms which are moving away from the viewing area. Mammatus clouds become most visible on sunset, when the sun ignites the thunderhead and allows shadows to develop between the mammatus bulges, this is where they become remarkably aw-inspiring and photogenic. 
As stated above, they typically develop with thunderstorms or supercells which mean they are of course associated with cumulonimbus clouds, but they can also form in association with altocumulus, stratocumulus and altostratus clouds. They have also been known to develop on the "underside" of volcanic ash clouds however all of these scenarios are far less common than typical thunderstorms.