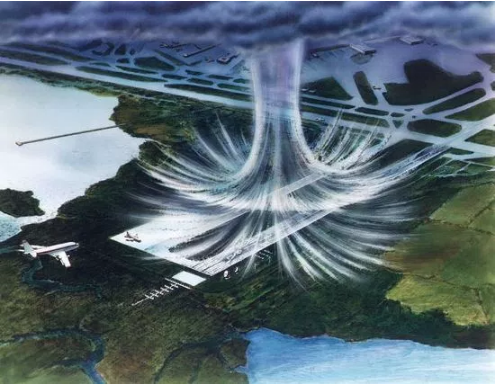 16 Oct

Microbursts & Macrobursts
Microbursts and macrobursts are potentially one of the least understood threats that regularly occur through the Australian Thunderstorm Season. By definition, they are both the same, there are just some very minute characteristics which differ between the two. Microbursts are essentially the more common of the two. So what are they, how do they occur and what are their threats?
What are they?

Microbursts and macrobursts are very intense downdrafts that occur within severe thunderstorms and supercell thunderstorms. These downdrafts surge from the clouds, down to the surface where the winds then hit the surface and spread out in a 360º fashion. The ferocity of the wind likely exceeds the damaging threshold of 90km/h, and its a strong reason for many thunderstorms becoming severely warned despite their tame appearance. Essentially… while the winds may seem tame, the conditions are favourable for a microburst or macroburst to occur at any moment. Stronger microbursts and macrobursts can exceed 125km/h winds (destructive criteria) and can even mimic the damage caused by tornadoes.
There are different forms of microburst's and macroburst's bursts also. You can have dry ones, which are far more common through inland parts of Australia and wet ones, which are far more common closer to the Coast and where high levels of tropical moisture are present. Dry ones typically resemble pure wind while a burst of very intense, frequent lightning may also occur near the its taken place. Wet ones of course have the wind, but are also accompanied by very heavy, potentially torrential, bursts of rainfall which will likely cause localised flash flooding. With wet micro/macro bursts, the visual appearance can resemble a rain bomb dropping out of the sky. 
What are their threats and characteristics?
Microbursts:
Usually less than 4km in diameter (about the size of a typical suburb)

They last up to 15 minutes with maximum intensity lasting between 2 and 4 minutes

Winds of 90-125km/h are common and in stronger ones, winds may easily exceed 150km/h!

These winds can down trees and powerlines, unroof homes and push cars off the road / highway. Stronger ones may also cause further more significant damage to homes and buildings while being able to push large trucks off highways. 
Macrobursts:
Usually larger than 4km in diameter

They can last for more than 15 minutes, but typically are less than 15 minutes also, with peak intensity lasting up to 5 minutes

Winds of 125km/h+ are usually likely, with peak winds potentially reaching 215km/h!

Macobursts have the ability to cause significant widespread damage due to their (by nature) stronger and larger size. They have the ability to cause tornado-like damage with buildings suffering significant structural damage, powerlines and trees downed, cars and trucks potentially rolled or blown off highways.