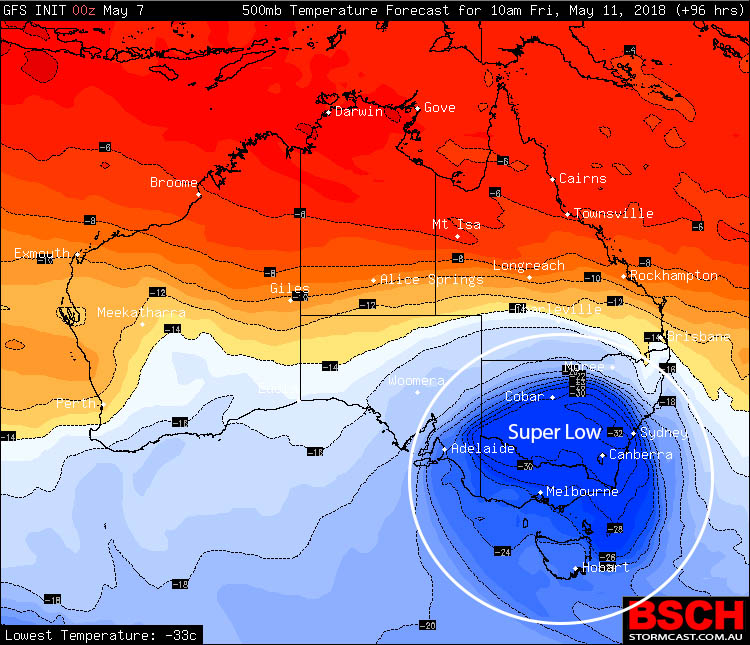 26 Jun

Super Low

Many questions have been asked why we HSC use the term Super Low in forecasting, or 'what is a Super Low'?
The term 'Super Low' has been used by Higgins Storm Chasing since October 2012 and is solely used for determining significantly cold cored upper level low pressure systems. There are certain features which are ascertained before giving the name 'Super Low' to a system. For starters, the low pressure system needs to be an upper level low and not a cold front. Secondly, it needs contain a super cooled core (this is where the word 'super' comes from) of at least -30ºc over New South Wales or -38ºc over the Great Australian Bight. These frigid temperatures are brought on as upper level low's track North from Antarctica bringing the freezing Antarctic air with them. Lastly, the system as a whole needs to be capable of producing severe weather.
While the name 'Super Low' is NOT an official weather term, we believe the name to be fitting of the system as not every upper level low is this cold as it helps seperate the normal from the abnormal.
Super Low's in their own right have a tendency to produce significant or severe weather. The most common being significant snowfall to the Snowy Mountains along with decent snowfall to the Central Tablelands of New South Wales, low altitudes of Victoria, very low altitudes of Tasmania and even in the odd occurrence (which typically only happens a few times a year at the most)… snowfall to the Northern Tablelands of NSW or even the Granite Belt of Southern QLD.
Super Low's can also bring with them significant temperature drops where maximums may struggle to get within even 4 or 5ºc of what is considered normal. On top of that, there is also the potential for damaging to destructive winds with these systems and heavy rain. Now not every system will be the same, and many other variables come into play for anyone of the above features to occur.
These kinds of systems 99% of the time will only occur in Winter due to the colder atmosphere as a whole, however if the 1% off chance was to occur that one developed during Summer and during Storm Season… then the potential for dangerous thunderstorms would increase and the most notable feature within these storms would be large to very large hail along with heavy rain and damaging to destructive winds being side attractions.