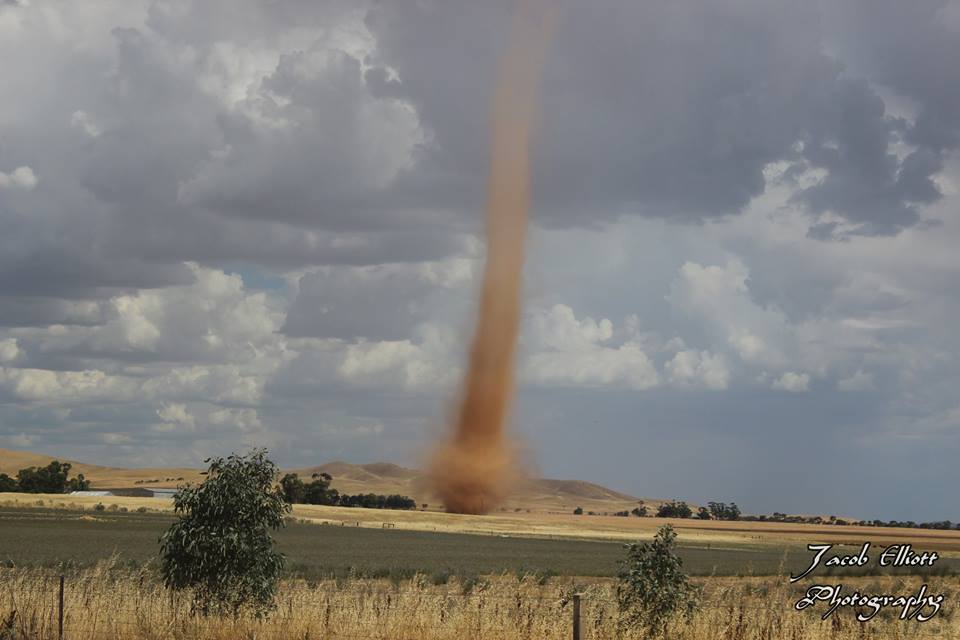 15 Oct

Dust Devils
Dust devils can be one of the most argued topics when it comes to people labelling something in the Australian Weather World. This will explain exactly what a Dust Devil is, how they form and their potential threats.

To start off, 'Dust Devil' is the OFFICIAL global terminology. Australian SLANG has included other names such as Whirly Wind and Willy Willy, but the OFFICIAL terminology is 'Dust Devil'. This terminology is officially recognised by the Bureau of Meteorology also, and while most people believe its a 'yank' thing, its well and truly recognised amongst Australian Weather by its official name. 
By definition, a dust devil is a rotating column of dust and air. While it is "technically" part of the tornado family in that both are similar by visual, but the similarities stop there. The mechanics behind how both develop are completely different and its these differences which help determine which is which. 
Dust devil's form under clear skies, warm temperatures (typically, although not a must). They form under stable conditions where the upward motion begins to swirl and pick up dust and other loose debris such as leaves. This is completely different to a tornado which develops under a parent or supercell thunderstorm where a horizontal vortex is present and its this horizontal vortex that becomes tilted towards the ground where it inevitably touches down (otherwise it would be a funnel and not a tornado). 
While dust devils are much much weaker than nearly all tornadoes, some strong dust devils have been known to cause damage and threaten human life. The strongest dust devils usually can unroof homes and buildings, throw objects, down trees and while the winds themselves won't typically harm a human, its the debris that the stronger ones can carry that may harm humans… or if a human was to step in one, they can quite easily be thrown where they are harmed upon landing. Dust devils typically occur in dry, arid areas with the most common being Arizona, New Mexico, Eastern California. However, they aren't foreign to Australia with the majority of Inland Australia being mostly arid, its quite common to see them. In saying that, they aren't completely foreign to "non-arid" areas, with city areas and more lush landscapes seeing them also – all it takes is a bit of dust, dirt or even leaves (something light with no weight) and they will be caught in the rotational updraft and make that invisible updraft become visible.