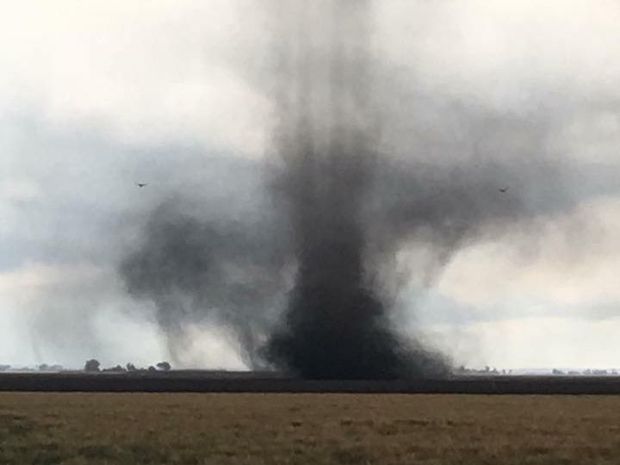 16 Oct

Landspout
The term landspout is only a fairly new terminology in the weather world after it was introduced in 1985. The definition of a landspout is a tornado that isn't associated with a mesocyclone, so by definition… yes landspouts are tornadoes, they are part of the tornado family, however their mechanics are just slightly different in how they form.
Landspouts are typically weaker than tornadoes which are produced by supercells and are much harder to detect on doppler radar imagery as the mechanics don't usually produce a hook-echo on radar, although a weak couplet can sometimes be detected – especially in stronger landspouts. Landspouts are usually as stated above, much weaker than your typical tornado with a rating of EF-2 or less on the Enhanced Fujita Scale although stronger landspouts may reach EF-3 strength. By definition of the EFS (Enhanced Fujita Scale) EF-2 strength is capable of bringing down large trees and unroofing homes and businesses or severely damaging less sturdier buildings such as caravans. 
A unique characteristic of landspouts is that they normally have a translucent tube and they are virtually identical to waterspouts with the only difference being one is over land and one is over water. Not all landspouts are visible, and it usually takes the inclusion of dust, dirt, loose items such as leaves and debris to make the tube become visible. Due to this, they can often be misinterpreted for dust devils however there is the difference that landspouts develop under unstable, showery or stormy conditions where as dust devils develop over more unstable and heat-oriented blue skies.
Landspouts aren't exactly uncommon in Australia and many tornadoes can be often misinterpreted for landspouts as the differences from a visual perspective can be so minute.