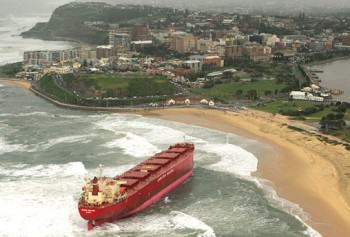 16 Oct

East Coast Low
Australian East Coast Low's are extratropical cyclones. East Coast Low's (or ECL's as their initials) are not known as cyclones because we (being the general public, weather presenters and reporters, or even official agencies) refer to cyclones as the warm cored systems that impact the Australian tropics. In retrospect however, those are technically called 'tropical' cyclones. East Coast Low's typically develop outside of the tropical waters and off the East Coast of Australia. The number can fluctuate greatly from year to year, but there have been as little as 0 recorded in some  years and in 1978/79 there were 12 observed. Many of these arent too overly severe with minimal impacts either due to duration or intensity.. there is the occurrence every year or second year however that sparks interest as these systems have the ability to produce catastrophic damage.
Australian ECL's, although varying in size, typically all contain one common characteristic… widespread heavy to very heavy continuous rainfall. These cold core cyclones develop anywhere outside of the tropics off the East Coast of Australia which is roughly between Gladstone and Mallacoota which is located near the NSW / VIC Border right on the South-East corner of Mainland Australia – any further South from here and you now have a Tasman Low which is once again a cyclone but formed under different circumstances to both tropical and ECL's, and any further North and you have yourself a tropical cyclone. These systems are renowned for producing catastrophic damage not only along the NSW and Southern QLD Coastlines, but extensive damage through major populated areas such as Sydney, Newcastle, Wollongong and Brisbane. ECL's have the ability to rapidly develop in a matter of hours, unlike other forms of cyclones which can take longer and are one of the biggest severe threats to NSW on an annual basis. These systems are most likely during the winter months when upper level support can play a role in speeding up the rotation and development of these systems, while the cooler climate can help influence them also (as they are cold cored systems). Its also quite common for several East Coast Low's to occur within close proximity to each other as conditions remain favourable for continued development. 
Threats of East Coast Low's?



East Coast Low's pose both a wind and rain threat to Australian mainland. The rain is the most obvious threat and likely threat, due to the fact the system doesn't need to be over land for dangerous rainfall intensity to occur. Onshore winds wrapping around the ECL can produce significant amounts of rainfall over localised areas in a matter of 24 hours leading to significant and catastrophic flooding. The winds can become brutal too, with gusts of 90-125km/h common and well in excess of 150km/h possible in the strongest ECL's. The good thing about the winds is while the broad scale can be gusty, the strongest winds are typically isolated and much closer to the system – so if it remains well offshore, its not so bad. They can also produce hazardous, dangerous or even life threatening sea conditions – for both human life and vessel. Waves can capsize boats, the swell can cause dangerous beach erosion and the overall effects of the Coastal waters can be hazardous for swimmers and beach-goers. 
HISTORIC ECL'S?

There have been several historic East Coast Low's across history, but here are some of the more significant ones.
August 20, 1857 – A sailing ship reportedly carrying 122 people on board was wrecked off Sydney, with 121 people confirmed dead.

June 1950: Sydney recorded its highest monthly rainfall total in history for any month due to a series of consecutive ECL's impacting the region

August 5, 1986 – Greater Sydney saw more than 300mm in 24hrs from a dangerous ECL with Sydney Observatory recording a station all-time record of 327mm.

December 7 & 8, 1998 – 6 participants in the Sydney to Hobart yacht race were killed as treacherous conditions caused by a very rapidly developing ECL directly impacted the race.

June 2007 (arguably the most famous of them all). The Pasha Bulker ship was grounded off the Coast of Newcastle. 10 people died as a result of 5 ECL's developing within a very short period of time and more than $1.4 billion in damages were reported.

October 14, 2014 – Winds of 161km/h were recorded off the NSW Coast as torrential rain from a dangerous East Coast Low hit Greater Sydney.

April 20-23, 2015 – At least 4 people were killed in the worst flooding to hit the Hunter since the 2007 ECL which grounded the Pasha Bulka. Torrential rainfall with more than 500mm in less than 48hrs caused historic flooding through the areas of Maitland and Dungog which isolated entire towns for days. 

April 28 to May 1st, 2015 – An East Coast Low produced a very dangerous slow moving thunderstorm over North Brisbane which produced more than 300mm of rain in 3 hours leading to historic and catastrophic flooding over areas such as Caboolture and tragically killed at least 5 people who were trapped in cars during peak hour traffic.