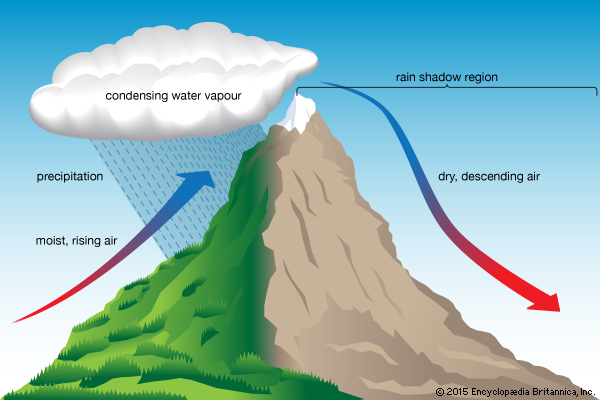 15 Oct

Orographic Lifting and its Influences
Orographic lifting is a fascinating process which involves atmospheric conditions, wind patterns and elevation over localised areas which can lead to showers, rain areas and thunderstorms developing locally. What makes it even more fascinating is that South-East QLD and North-East NSW in particularly are heavily influenced by orographic lift between October and April. 
So what is 'Orographic lifting'?

Orographic lifting is a process where very moist air is forced up into higher elevations of the atmosphere through the form of mountains and ranges. The winds push high levels of moisture up one side of the mountain (typically the Coastal side) and this moisture can tap into the higher elevations resulting in clouds developing over the mountains or ranges which then have the ability to produce rainfall. Under the right circumstances, orographic lift can also play a role in breaking a capping inversion and allowing thunderstorms to develop. 
The result of this process can lead to slow moving showers, rain periods and sometimes thunderstorms. They become slow moving because the orographic lifting process is the sole livelihood of that particular cell so the cells (whether they are rain or storms) require the mountains for survival, meaning they can become almost stationary or "back build". The back build process is where steering winds force the rain off the mountains, but the orographic lift process doesn't ease, so further rainfall is generated. The result of this can lead to very high localised rainfall totals at or near where the process takes place. 
Areas that receive Orographic Lift:

Some places are renowned for being under the influence of orographic lifting during rain events. These places include: Upper Springbrook which is well and truly the wettest place in South-East QLD. Tomewin, O'Reillys, Numinbah, Chillingham, Couchy Creek and surrounds also experience it. The Snowy Mountains well and truly see the highest rainfall in North-Eastern VIC, as do parts of the West Coast of Tasmania – especially around the Hartz Mountains. The Innisfail, Ingham pocket of Tropical North QLD sees the highest rainfall on average throughout Australia and this is largely due to such localised extremely high rainfall totals during the monsoon season brought on by the Ranges and oropgrahic lifting. The Eungella Ranges can also pick up some of the highest 24hr totals during the Summer Season, West of Mackay. 
There is a flip side to this however, while one side of the Ranges sees extremely high precipitation occurring, the other side sees very little and thats due to a phenomenon called a 'Rain Shadow'. To find out more about this, click here.