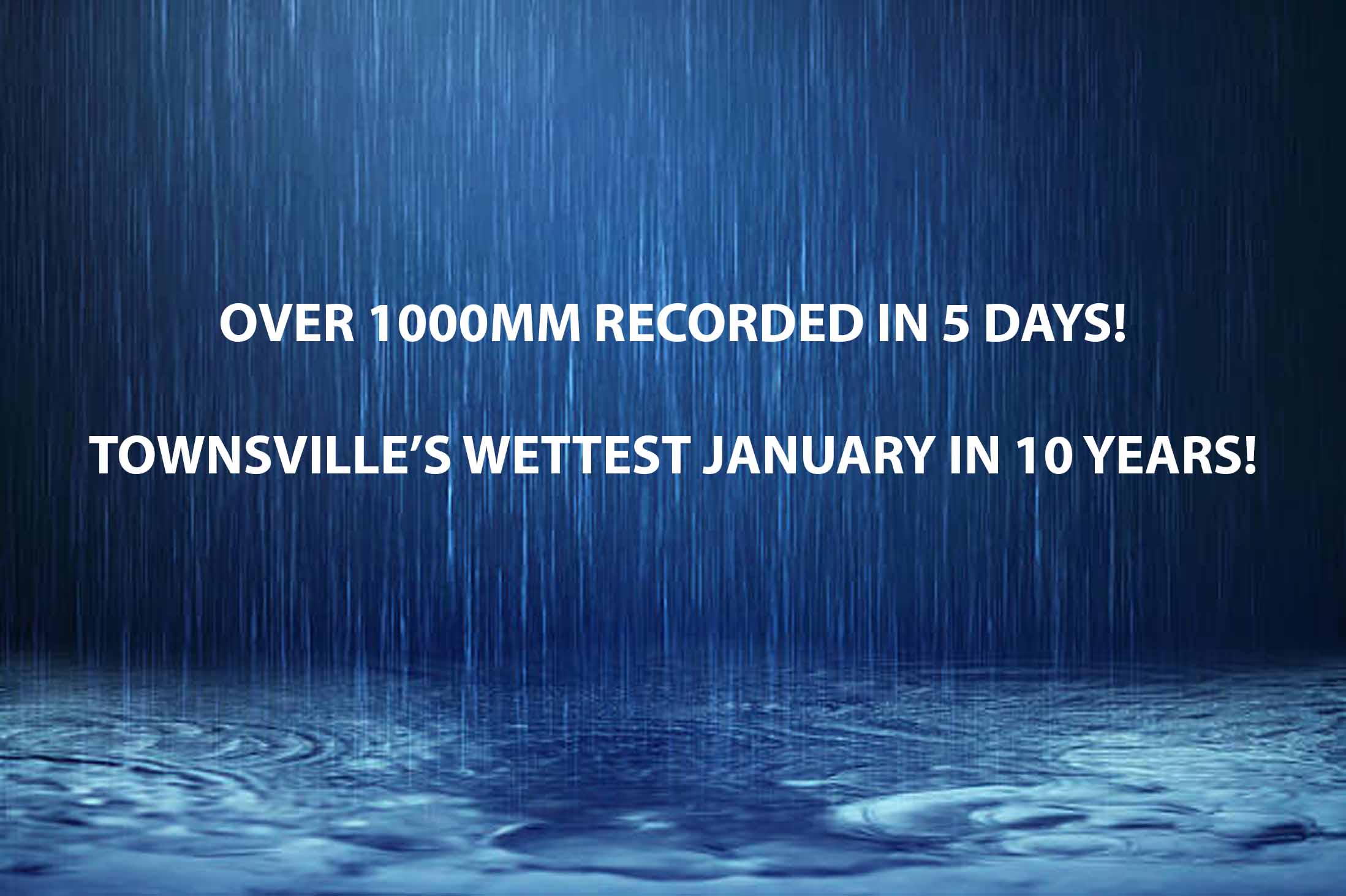 01 Feb

Multiple locations break 1m rainfall totals after 5 days!

Another day of excessive rainfall has occurred over the North QLD region between Cardwell and Bowen as well as North of Mackay over Central QLD as the monsoon trough lingers in the region. This has now lead to multiple locations pushing or exceeding the 1000mm mark over the past 5 days, with forecasts suggesting another 1000mm+ is possible for some isolated to scattered locations over the next week.
The heaviest falls have occurred around the Greater Townsville region once again.
24 hour totals include:
• Upper Black River 336mm
• Upper Bluewater 320mm
• Woolshed 286mm
• Mt Margaret 278mm
• Bluewater 274mm
• Woodlands 267mm
• Louisa Creek 245mm
• Vincent 244mm
• Townsville Airport 239mm
• The Lakes 227mm
• The Pinnacles 226mm
• Gordon Creek 226mm
• Garbutt 225mm
• Kirwan 223mm
• Stuart Creek 223mm
• Paluma 222mm
• Paluma Alert 222mm
• Gleesons Mill 221mm
• Cluden 221mm
• Whites Creek 216mm

• Townsville City 216mm
This has lead to some exceptional 5 day totals now across the Greater Townsville / North QLD area as well as areas between Mackay and Proserpine where multiple locations have recorded over 1m of rain!
5 day totals include:
• Sandy Plateau 1249mm
• Upper Bluewater 1178mm
• Paluma 1125mm
• Paluma Alert 1052mm
• Upper Black River 1003mm
• Woolshed 985mm
• Stafford Crossing 919mm
• Forbes Road 903mm
• Upper Major Creek 870mm
• Rollingstone 841mm

• For interest sake – Townsville City's 5 day rainfall total is now 608mm.
Additional Notes:
•Upper Black River and Upper Bluewater have both now recorded back to back 300mm days
• Woolshed has now recorded back to back 286mm days
• The 216mm in Townsville City is the highest 24hr total for the gauge in 10 years (February 2009)
• Woolshed has now recored back to back to back 200mm days, and subsequently broken its January record for rainfall
• The 445mm for January in Townsville (yesterdays 216mm doesn't count to the January total, it counts towards February) was the wettest January in 10 years for Townsville

• Upper Bluewater, Paluma, Forbes Road have all recorded 5 straight days of 100mm+, Sandy Plateau has recorded 4 straight days of 175mm+
It wasn't just North QLD that received phenomenal rain, with overnight rain periods and storms accounting for excessive totals over North West QLD also!
• Miranda Creek (near Mt Isa) 265mm
• Gereta Station 186mm
• Kamilaroi 152mm
• Lake Julius 151mm
• Hulberts Bridge 137mm (341mm in 3 days)
• Normanton 133mm
• Nardoo 120mm
• Richmond 113mm (260mm in 4 days)
• Normanton Airport 108mm

• Cloncurry 71mm