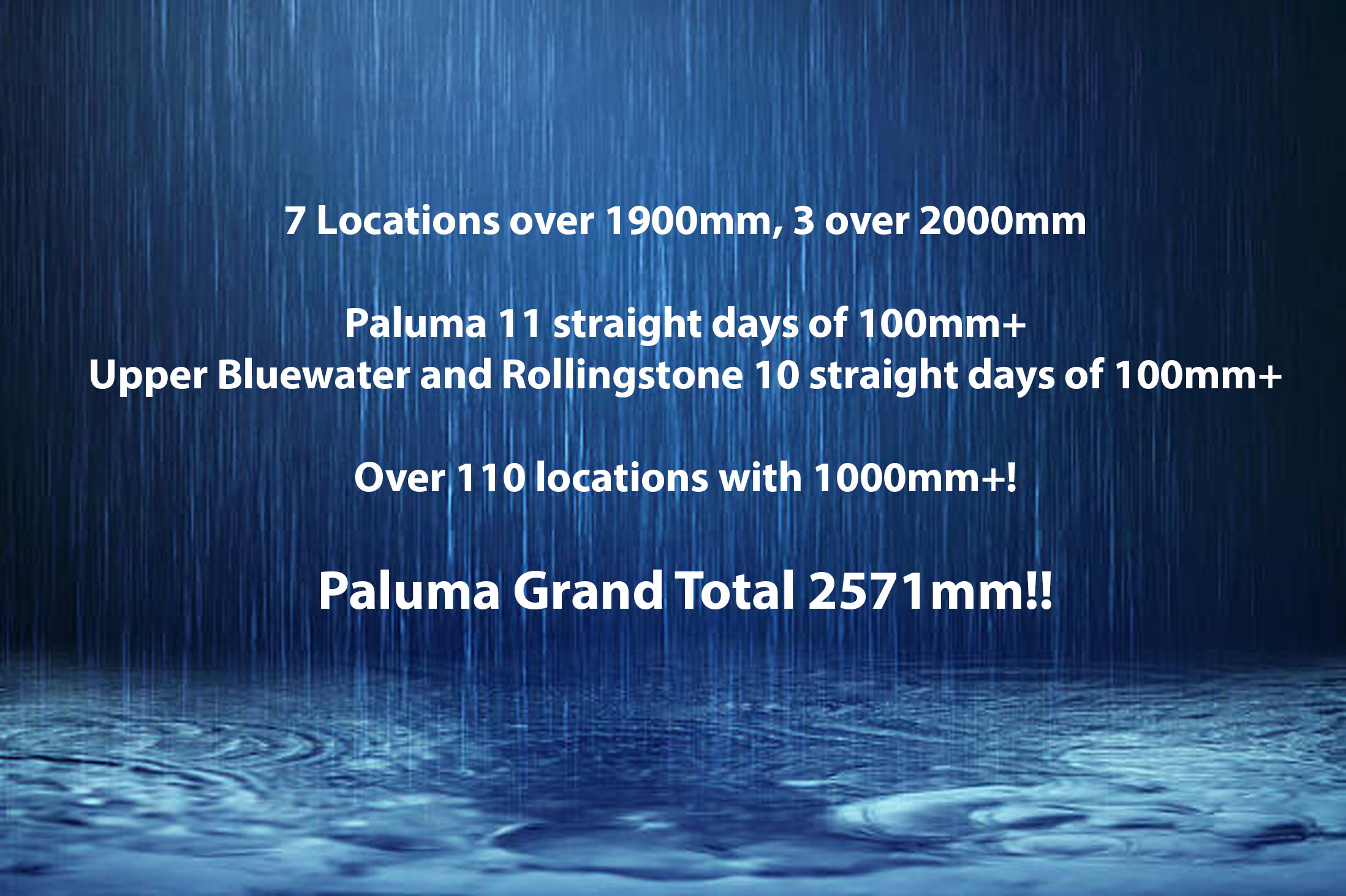 07 Feb

Paluma cracks the 2.5m mark! Rainfall Summary as of Feb 7th
Over the course of the last 24 hours, further heavy rain has impacted the Paluma region whilst the indication of increased rainfall over the Whitsunday and Central Coast region has finally (from a forecast accuracy perspective) come to fruition. Rainfall across the Townsville region thankfully has eased off and should continue to do so unless some isolated in nature throws a curveball.
Some of the top 24hr totals to 9am Thursday:
• Jubilee Pocket 292mm
• Cannonvale 202mm
• Clarke Range 200mm
• Preston 192mm
• Peter Faust Dam 188mm
• Lower Gregory 183mm
• Eungella 148mm
• Bowen Airport 135mm

• Sarina 103mm
As records keep rolling, Paluma has continued on with its insane run of accumulative totals. Paluma recorded 165mm in the 24hrs to 9am Thursday, this makes it the 11th consecutive day above 100mm for the station as well as now accumulating a grand total of 2571mm for this event! 
For clarification these are the 11 individual daily totals: 


January 28th – 160mm
January 29th – 230mm
January 30th – 370mm
January 31st – 143mm
February 1st – 222mm
February 2nd – 261mm
February 3rd – 281mm
February 4th – 175mm
February 5th – 384mm
February 6th – 180mm
February 7th – 165mm

Grand total – 2571mm
The past 24 hours has also ended the 100mm streaks of both Upper Bluewater (22mm) and Rollingstone (19mm). This leaves Paluma on its own with this streak now. Woolshed is also just 12mm shy of the 2000mm mark as well, with Upper Bluewater, Paluma and Paluma alert stations already above this feat. 
For some comparative purposes with Paluma's 2.5m of rain:
• Brisbane has recorded the same amount of rainfall between April 17th 2016 and February 7th 2019 (1027 days)
• Sydney has recored the same about of rainfall between July 7th 2016 and February 7th 2019 (976 days)
• Adelaide has recorded the same amount of rainfall between April 9th 2014 and February 7th 2019 (1766 days).
• Darwin has recorded the same amount of rainfall between November 15th 2017 and February 7th 2019 (450 days).

• In a normal year, Birdsville averages around 168.7mm – this would be the equivalent of Birdsville recording more than 15 consecutive "average" years (roughly 5570 days as its a little over 15 years).
[wp_ad_camp_4]