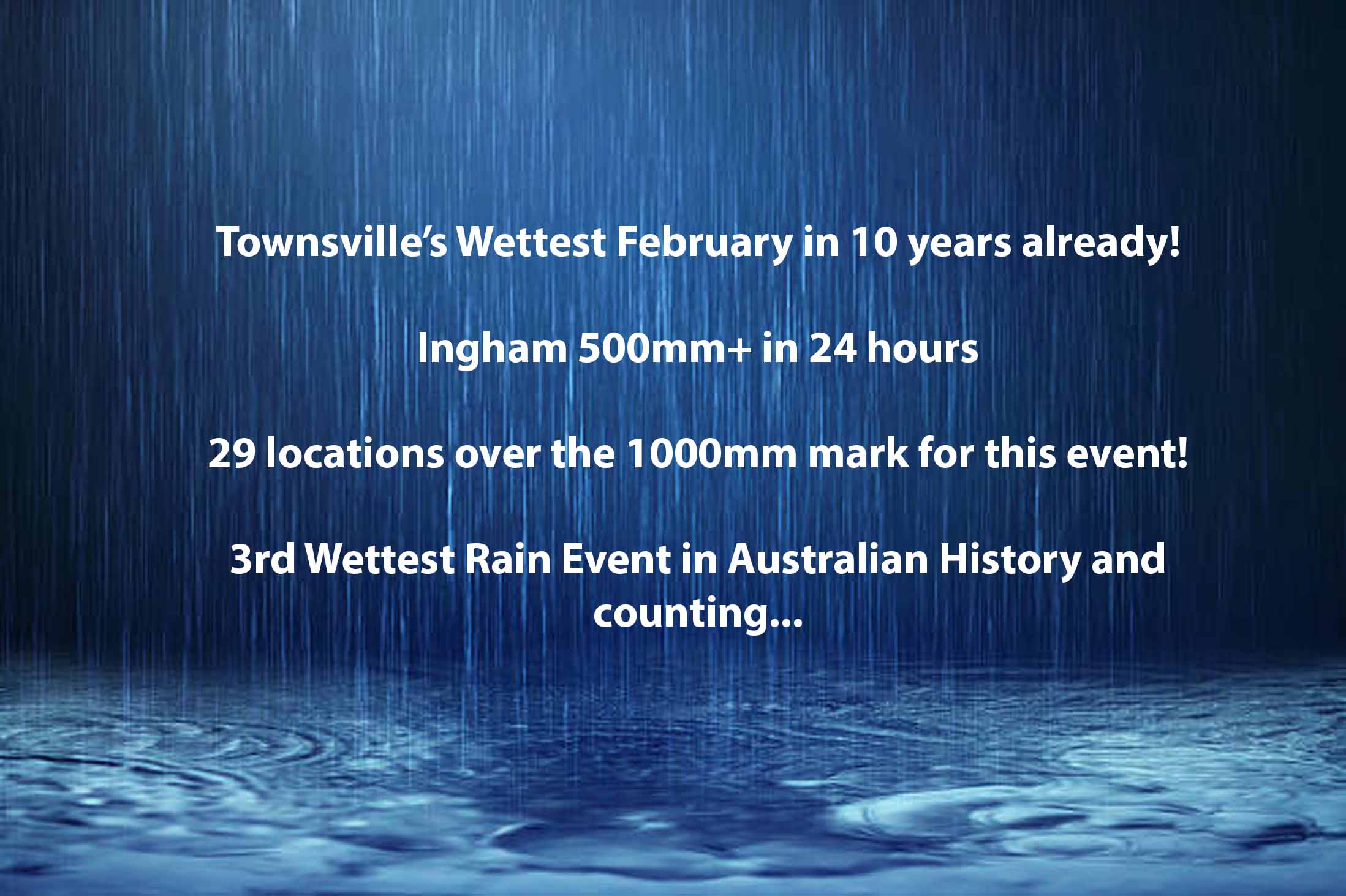 03 Feb

Rainfall Summary February 3rd 2019 – Townsville Flood Event
Over the past 24 hours, we've seen the effects of extreme rainfall rates over a localised area in a short to moderate period of time. This was indicated by Ingham recording over 500mm in a 24 hour period, most of that falling after sunset, with rates of more than 100mm/hr being recorded in Ingham and surrounds. The continuous rainfall over Greater Townsville has also lead to the City recording its wettest week in history – beating the Night of Noah by over 100mm!
Top 24 hour totals to 9am Sunday:
• Ingham Pump Station Alert 506mm
• Ingham Pump Station 457mm
• Halifax 416mm
• Gairloch 414mm
• Ingham Depot 373mm
• Paluma Dam 313mm
• Allingham Forrest Drive 312mm
• Cardwell Range 310mm
• Cardwell Gap 309mm
• Paluma Alert 303mm
• Whites Creek 293mm
• Paluma 281mm
• South Mission beach 271mm
• Nelly Bay 265mm
• Reeds Beds 247mm
• Lucinda Post Office 245mm
• The Pinnacles 239mm
• Mt Margaret 232mm
• Stuart Creek 227mm

• South Townsville 226mm
This has now lead to 39 locations surpassing the 1000mm mark for the past 7 days, some of these include:
• Paluma 1667mm
• Paluma Alert 1600mm
• Upper Bluewater 1568mm
• Woolshed 1554mm
• Upper Black River 1419mm
• Mt Margaret 1392mm
• Sandy Plateau 1290mm
• Rollingstone 1226mm
• Saunders Creek 1179mm
• Deeragun 1144mm
• Halifax 1106mm
• Ingham Pump Station 1092mm

• Townsville Airport 1012mm (see notes)
Additional Notes:
• In January 1998, when the 'Night of Noah' occurred. Townsville recorded 913.2mm in a 7 day period which including the Night of Noah itself (548.8mm overnight). The Townsville Airport recorded 886.2mm during that 7 day period as well – this is believed to be the wettest 7 day period for Townsville since records began in the area. The current 7 day period has recorded 1012mm which has clearly beaten this milestone quite comfortably
• Paluma's total of 1667mm or the Paluma Alert total of 1600mm – both fit the criteria – rank this as the third wettest event in Australian history (QLD hold the top 5-7 titles of rain events in Australia). This places it above the 1318mm at Mt Glorious in 1974 and just behind Mount Bellenden Ker 1870mm (1999) and 1947mm (1979). There is every chance that based off of forecasts, that the 1947mm total could be reached.
• This is now 6 consecutive days that someone across the Ingham to Mackay region has recorded in excess of 300mm.
• Paluma, Paluma Alert, Upper Bluewater, Rollingstone have all recorded 7 consecutive days above 100mm, Paluma Dam falling 1mm short (99mm on Thursday) of this feat as well. Multiple locations have recorded at least 5 consecutive days above 100mm.
• Woolshed has now recoded 5 consecutive days above 200mm (totalling 1350mm in 5 days)

• 3 days into the month and this is already the wettest February in 10 years (2009) for Townsville City – the total of 960mm that month is also the benchmark (current record) for February and based off current forecasts, theres no reason Townsville won't surpass that.
Further good falls have also been recored North of Mount Isa. Models were indicating an area (and still are) of excessive rainfall just North of the highway running from Mt Isa to Cloncurry. These model predictions are now coming to fruition.
• Gereta Station 232mm (512mm in 3 days)
• Julius Dam 204mm (462mm in 3 days)
• Kamilaroi 146mm (368mm in 3 days)
• Gunpowder 145mm
• Miranda Creek 138mm (478mm in 3 days)
• Doughboy Creek 128mm
• Dugald River 128mm

• Cloncurry 106mm (269mm in 2 days)