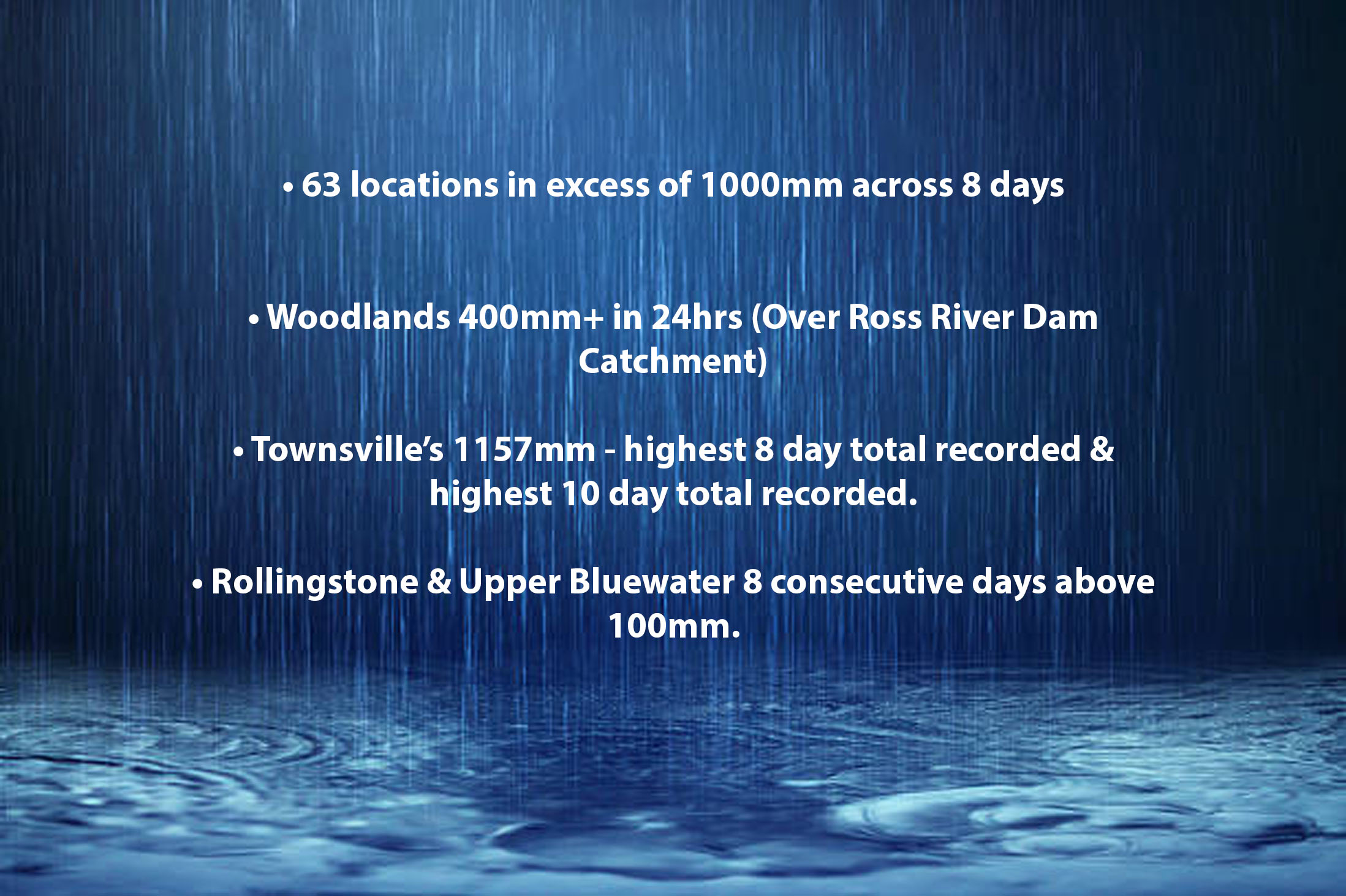 04 Feb

Rainfall Summary February 4th – Townsville Flood Event
Over the past 24 hours we saw what was inevitably the nail in the coffin for the Dam as more than 400mm fell over the Dam Catchment area leading to the inevitable 100% gate opening as the volume of water that was going into the dam exponentially increased. Greater Townsville also copped another widespread 200mm with further rain still yet to come…
Some of the Top 24hr totals:
• Woodlands 402mm
• Nelly Bay 268mm
• Bluewater 245mm
• Louisa Creek 241mm
• Townsville City 233mm
• Kiran 229mm
• Aitkenvale 225mm
• Rollingstone 225mm
• Cardwell gap 223mm
• Bushland Beach 223mm
• Garbutt 222mm

• Reed Beds 220mm
Top 8 day totals: 
• Upper Bluewater 1731mm
• Paluma 1667mm
• Woolshed 1660mm
• Upper Black River 1500mm
• Mt Margaret 1472mm
• Rollingstone 1451mm
• Woodlands 1429mm

• Townsville City 1157mm
Notes:
• The 1731mm for Upper Bluewater is now within 250mm of becoming the #1 rain event in Australian history, currently ranked 3
• Townsville's 1157mm is well and truly above the 10-day record with an obvious 2 days left for rainfall to occur across the City. The 7 day total of 1012mm up to 9am yesterday was a confirmed 7 day record as well
• This is the 8th straight day that a location between Mackay and Ingham has recorded in excess of 300mm, and the second consecutive day that somewhere has recorded over 400mm
• 63 locations have now broken the 1000mm mark for this event across the past 8 days, with another 12 on top of that over 900mm (75 locations all up).

• Upper Bluewater and Rollingstone remain the only 2 locations to record 8 consecutive days above 100mm after Paluma recorded just 47mm and stopped at 7 consecutive days. Woolshed's 200mm streak is also over with 106mm recorded in the 24hrs to 9am Monday morning. Paluma Dam has recored 7 of the past 8 day above 100mm with the 1 day remaining the 99mm on Thursday (1mm short).