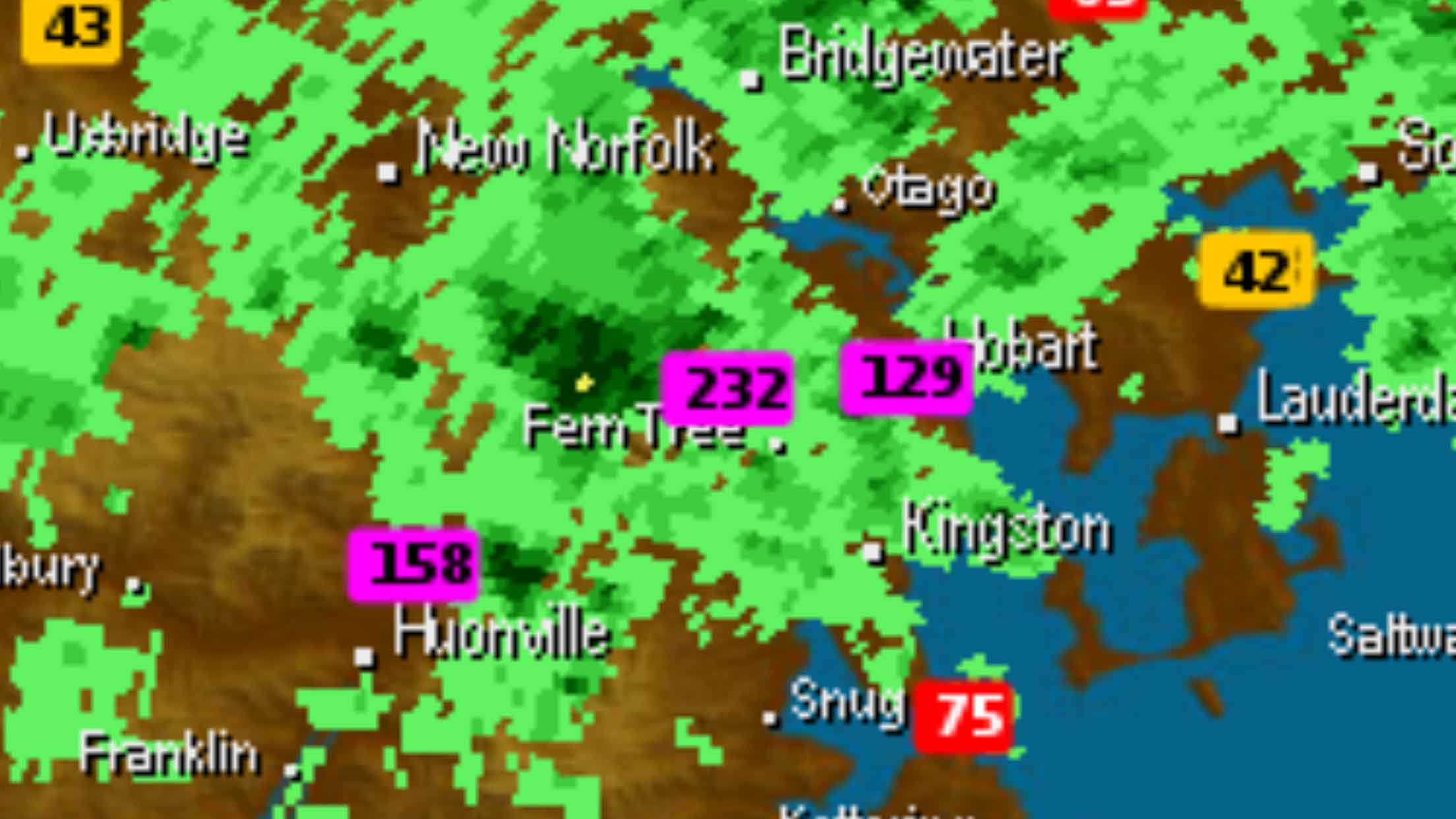 11 May

Record Shattering Rain hits Hobart overnight!
Posted 11/5/18

Hobart has been dealt a rapid blow overnight as intense / severe thunderstorms lashed South East TAS record breaking heavy rain and dangerous flash flooding. Above image via Weatherzone showing the 3 main totals (Hobart, Mt Wellington & Grove).
[wp_ad_camp_2]
During Thursday night (last night), a cluster of intense or even severe thunderstorms moved across South East parts of Tasmania. Hobart was right in the cross hairs of the heavy rain which persisted for hours and lead to the City recording its 4th wettest day in history with a staggering 129.2mm – only the 5th time ever Hobart has exceeded 100mm in a day and the first time for May. The rain came down fast with 44mm recorded in the space of an hour (this alone almost broke the May record of 47.6mm at Ellerslie Road). Streets turned into rivers as the Hobart Rivulet broke its banks. This allowed the situation to escalate further as cars were washed down streets and thousands of properties and businesses lost power. The 129mm total is almost 3x the previous May record and 3x the running May average.
[wp_ad_camp_1]
While the system was supposed to be beneficial for snowfall on Mt Wellington, the opposite has occurred with an insane 234.8mm being recorded between 9am Friday and 9am Saturday, this is an all time record for any day – surpassing 202mm set on December 19, 1995. Nearby Grove recorded 158.8mm also which was 2.5x the May record of 60mm and higher than the April 23, 1960 all time record of 154.7mm. This is only the 2nd month (April being the other) that Grove has recorded 100mm+ on a day in.
Other big totals include: Leslie Vale (222mm), Crabtree (143mm), Cannells Hill (131mm), Styx Waterfall (124mm), Nugent (123mm), Buckland (121mm), Sudbury (119mm), Mount Lloyd Road (115mm), Kingston (110mm) – all of which are likely to be at least a new May Record if not for some, an all-time daily record. Maria Island, East of Hobart, also recorded 91mm which was a new town record for May. Hartz Mountains in the South, despite only having records back to 1996 absolutely smashed the 28.6mm record for May with 86mm!
[wp_ad_camp_3]
Conditions are forecast to remain wet and windy at times throughout Friday, but they should begin to ease as the day progresses. So thankfully, unless something unsuspecting happens, the worst appears to be over.