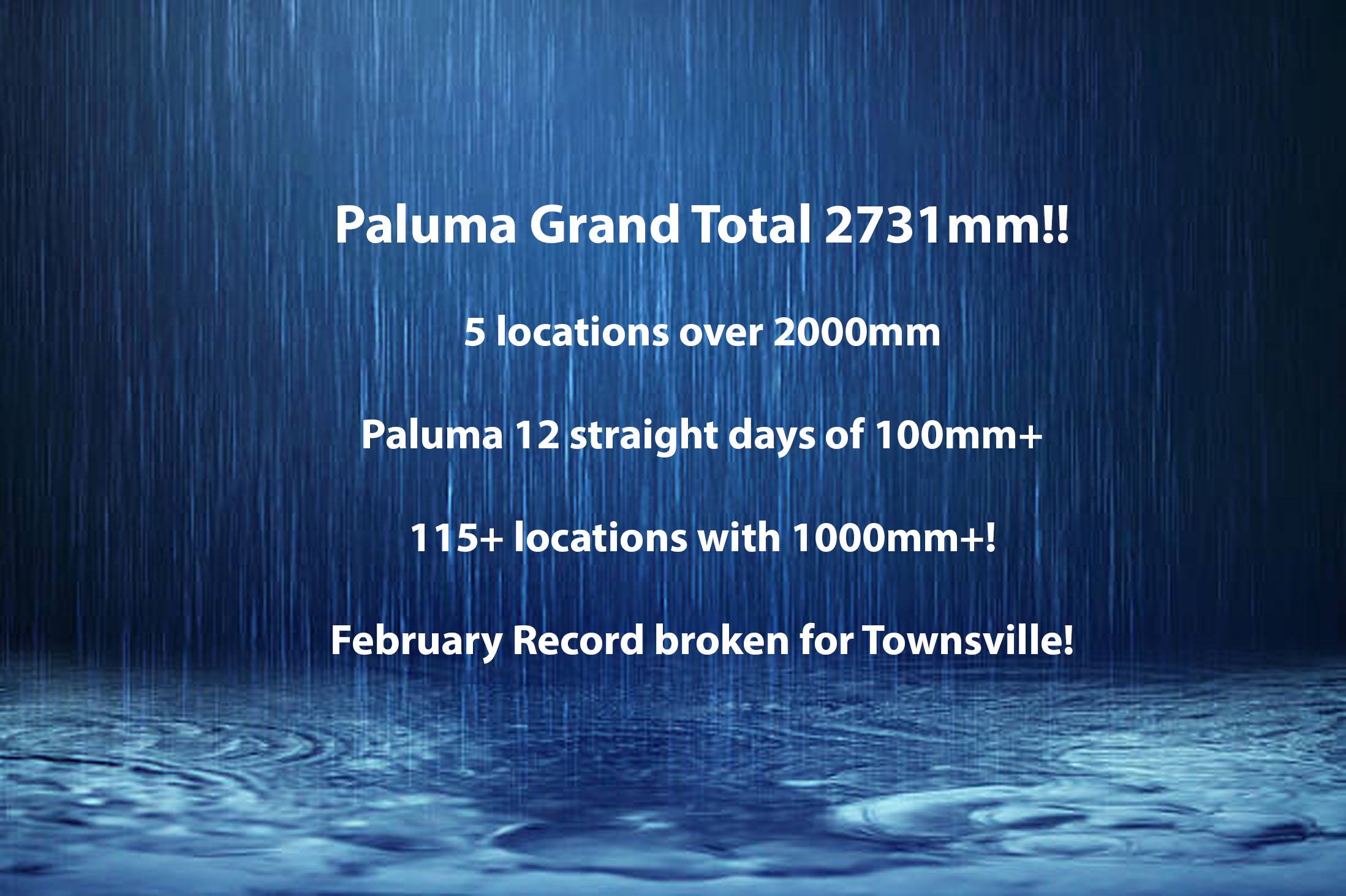 08 Feb

Ridiculous Rainfall Accumulations Up To Day 12 Of The Townsville Floods
After 12 days of non basically non stop rain, it appears as though the event is finally over – from that perspective, as the flooding is still ongoing and will be for days, maybe even weeks in some areas. While we will have a full summary report done up over the next few days highlighting certain things (from a State perspective, not just Townsville, as North West QLD has some insanity from a numbers perspective that we wish to share), the past 12 days from a brief summary perspective have been well and truly historic for the Greater Townsville region.
Another day and night of continuous rain has lead to more falls of 100mm+ across Greater Townsville, and for the first time for the event, nobody "officially" recorded more than 200mm – we do need to acknowledge though that there were multiple reports coming into page of more than 300mm at Horseshoe Bay, Magnetic Island from multiple rounds of severe weather yesterday!
Top 24hr rainfall totals include:
• Clarke Range 186mm
• Bushland Beach 171mm
• Paluma 160mm
• Nelly Bay 154mm
• Toolakea 152mm
• Stony Creek 143mm
• Bluewater 141mm
• Townsville Airport 132mm
• Rollingstone 126mm

• Townsville City 118mm
Unless something dramatic happens over the next 24 hours, its unlikely these locations will add to their 12 day totals (i.e. make it a 13 day event). So the top-5 12 day accumulation totals are as follows:
• Paluma 2731mm
• Upper Bluewater 2347mm
• Rollingstone 2044mm
• Woolshed 2035mm

• Upper Black River 1955mm
Note: Paluma has a second gauge which also recorded welly over 2000mm however with multiple days now missing, we have elected to leave it out of the official data. The days it does have available for the previous 12 exceed 2000mm on their own anyway, but its likely that the station – give what it has, with whats its missing, cross checked with the valid Paluma gauge… it probably recorded something similar in the vicinity of 2600mm+

Its also worth noting that we have unofficial but reliable data coming out of Hervey Range where falls for the past 12 days have exceeded 2700mm as well. We will look to source that information more thoroughly over the next few days for posting purposes and for the finalised rainfall event summary blog over the weekend.
Perspectives and Streaks:
• Townsville has broken its 6 day, 7 day, 8 day, 9 day, 10 day, 11 day and 12 day accumulative records from this event. A final 12 day total of 1391.4mm has been observed.
• Townsville has also broken its February record of 960.8mm set in 2009 with 998.2mm already.
• 5 locations (including the secondary Paluma gauge) cracked the 2m mark for rainfall.
• Over 115 locations that we know of, could be much more, broke the 1m mark for rainfall
• Upper Bluewater was the only location to crack 300mm+ on 3 individual days, multiple locations did it twice – some back to back
• Several locations recorded 3-4 consecutive days of 200mm+, Woolshed was the only location to achieve 5 straight days
• Upper Bluewater and Rollingstone recorded 10 straight days of 100mm, Paluma baring something unforeseen today, will have 12 straight days for the event. This "could" be an Australian record but the data to source through will take an extremely long time – we do know its more than any of Mount Bellenden Ker's record breaking streaks.
• Paluma's 2731mm is likely the highest rainfall event (regardless of length) total for Australia outside of Mount Bellenden Ker who holds many records in that regard – it is also the highest rainfall event total since 1979 when Mt Bellenden Ker recorded 3847mm in 8 days

• We will keep the "x number of days since x location recorded 2731mm" for the main blog – but Paluma's total is the equivalent of 16.5 years of "normal" rainfall at Birdsville – essentially, if youre in school right now, Birdsville hasn't recorded that much rain since you were born.